I Played FIFA Like Gareth Southgate – Ask Me Anything
FIFA 21 is the bane of online football discourse. While it's the best football sim on the market, it's still just a bunch of numbers written by algorithms that can't hope to define all of the complexities that go into what makes a player great, and in what position. We take them so seriously that we argue passionately that it's a disgrace Jordan Henderson has an 86 rating when he's CLEARLY an 85. If you thought conversations about video game review aggregator Metacritic were exhausting, just check in with the FIFA community the day FIFA 22 ratings come out. Anyway, the reason I bring this up is because I see a bit of this FIFA discourse creeping into discussions around the England team – particularly Gareth Southgate's England selection. So over the weekend I played FIFA 21 online as Southgate to see how well the two worlds would unite.
The idea was simple – I not only had to play as England, I also had to manage them as Southgate would. I played his team against Croatia – the one with Trippier out of position – and included a few ground rules. Firstly, play must always be recycled – if there's not a pass on, keep passing all the way back to Pickford and start again. Secondly, the wing backs were not to overlap or cross the ball – they must always play central balls. Third, only Mount and Phillips could pass forward in the opposition half, and these must always be balls over the top to Sterling or Foden. Fourth, Sterling is only allowed to shoot when he has literally no other option. Fifth, despite being a forward Harry Kane must avoid the box and play mostly in the centre circle. And sixth, under no circumstances is Jadon Sancho allowed to play.
For the record, I like Gareth Southgate. Sure, England would do better under Pep Guardiola, but he took us to the World Cup semi-final, he broke our penalty hoodoo, he's bringing through youth, and he's not confined by populist opinion. I don't get the Grealish debate – he's a big-fish-small-pond player and doesn't fit our system. He was poor against Scotland. I will say I don't understand the lack of Sancho, when he has more goal involvements at his age than Wayne Rooney did (74 to 72), but whatever. I have to think like Southgate, so that means no Sancho.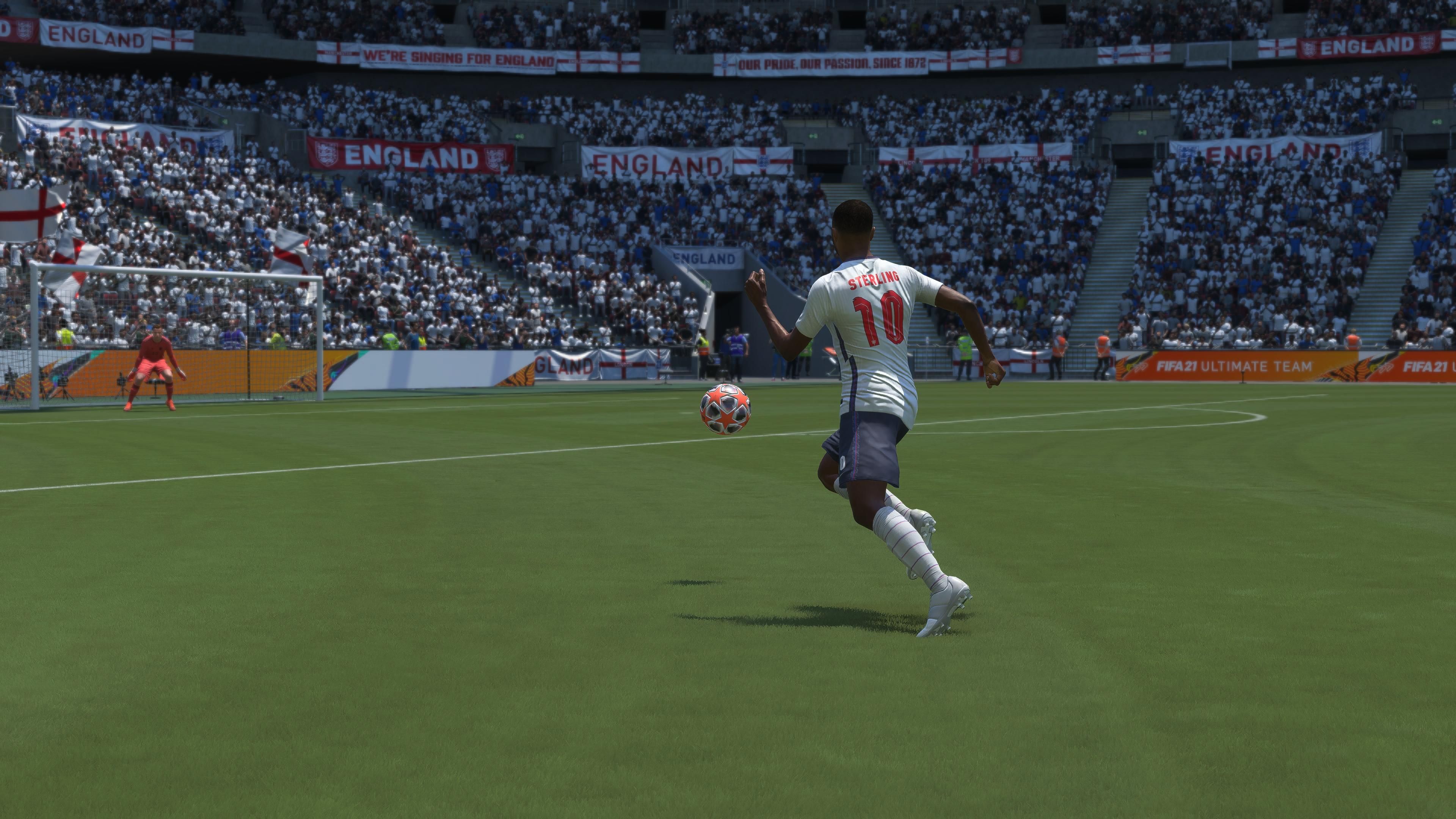 Southgate does not play FIFA football, though. My personal England FIFA team would not only have Sancho, but also Rashford and potentially Bellingham, while I wouldn't make room for Phillips or Rice – I also run at players a lot, whip crosses in, and play a high press. This was going to be an adjustment.
My first game was against Germany, with my opponent rather unsportingly ditching Joachim Low's realistic team in favour of having Goretzka, Werner, and Sane on the pitch. Nevertheless, I stuck to my guns, playing the Southgate way. It was boring, but I have to be honest – it worked.
I played the ball back to Stones from kick-off, out to Walker, back to Stones, to Walker, Phillips, Rice, Phillips, Mount, Stones, Pickford, Mings, Phillips, Mount, Trippier, Stones… you get the idea. I'd never play FIFA this way usually – no one was having any fun. But the Germans kept piling more and more players forward, trying to crowd me out. If Pickford, Stones, or Mings lost the ball, it was surely 1-0 Germany.
Then I was converted to Southgate Ball. As Mings tapped it to Phillips, my opponent dove in, frustrated, and completely missed the ball. Phillips now had room to turn in bags of space. The Yorkshire Pirlo spun and pinged the ball in behind for Sterling to run onto it. He easily outpaced what was left of the German defence, raced into the six yard box, had the goal at his mercy, and… passed. This is Southgate's Sterling remember, and I know he scores a lot, but he passes even more. Luckily Kane was on the edge of the box to sweep it home. 1-0 England, and with 73% possession, you can't say they don't deserve it, Ally.
I'll spare you the blow by blow of the rest of the game, but it was fairly similar. I kept the ball at the back, waited for space, then either Phillips to Sterling or Mount to Foden did the job. Kane did his part too – yeah he scored twice in a 3-1 win, but look at where he is in the shot below. That's in his own half with 20 minutes left when we're two goals up! Proper Southgate Ball that.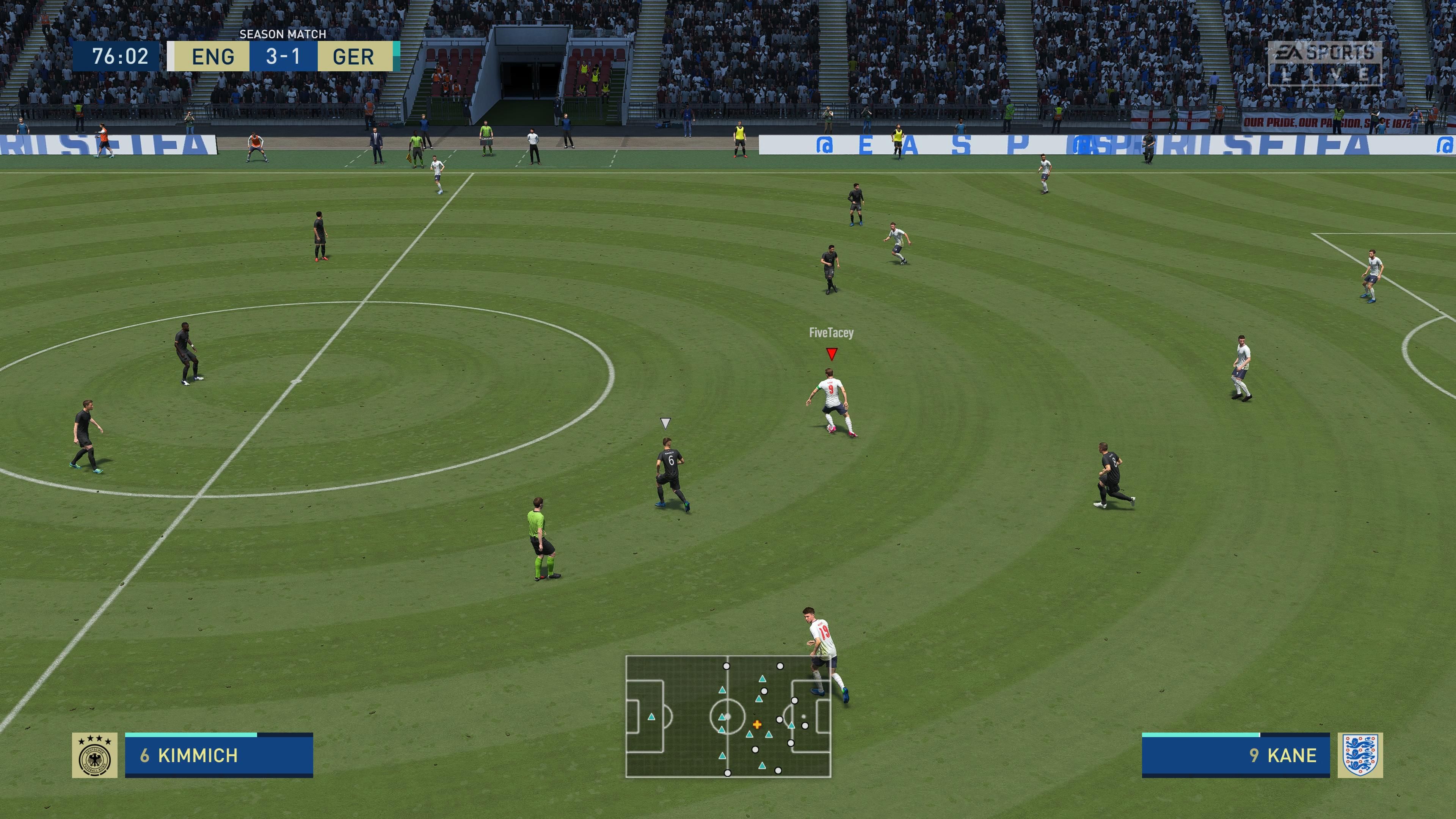 The next game was Germany again, and it was a similar story. Wait out a mistake, ball over the top, score. We won 4-0 that time, with 25 passes from Phillips, 27 from Mings(!), 17 from Pickford, and 23 from Kane – check out that Southgatey heat map below. Sterling got two assists off just seven passes; very efficient.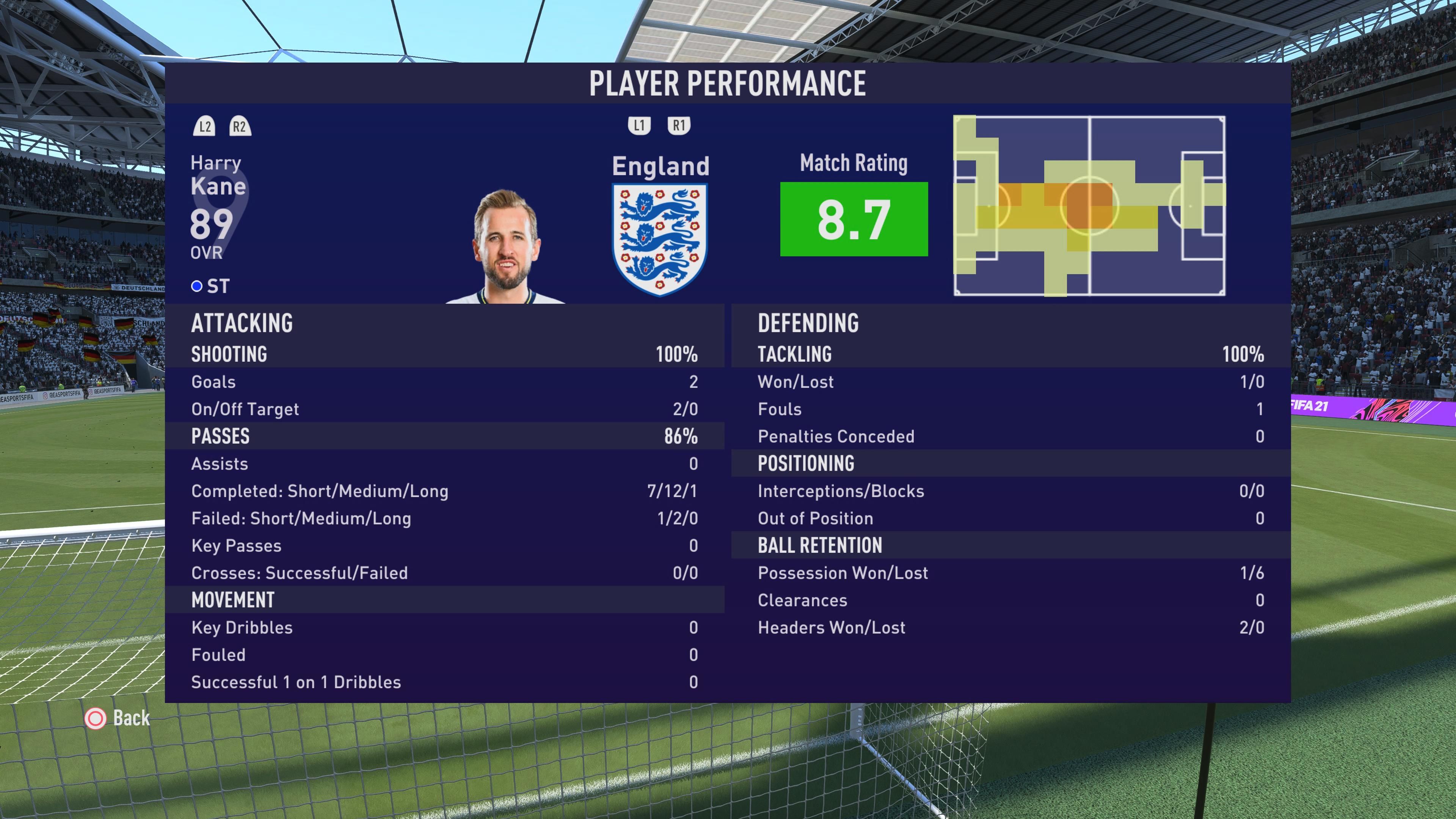 So, Southgate's a genius then, right? It can be dull to watch at times, but we've got a World Cup semi-final out of him and four points from our first two group games in the Euros – the same tally as France and higher than Spain, Germany, and Portugal. Give him a statue. Southgate Ball is the future. Oh, if only.
In my final game of the experiment, I was matched with Norway. They have Erling Haaland, so they're not terrible, but they didn't even make the Euros. Surely a cakewalk. But no. It started out prophetically, with Stones hitting the post from a corner, then went very wrong. Stones and Mings had their pockets picked constantly, Mount couldn't get a foothold on the game, and every pass Philips played was desperate and overhit. By half time I was 3-0 down, and it became 4-0 shortly after. On the 53rd minute I got a penalty, and decided to abandon Southgate Ball for Henley Ball. 3-4-3, on comes Sancho, on comes Rashford, and just to spite Southgate, on comes Grealish. As you can see below, fortunes turned around rather dramatically.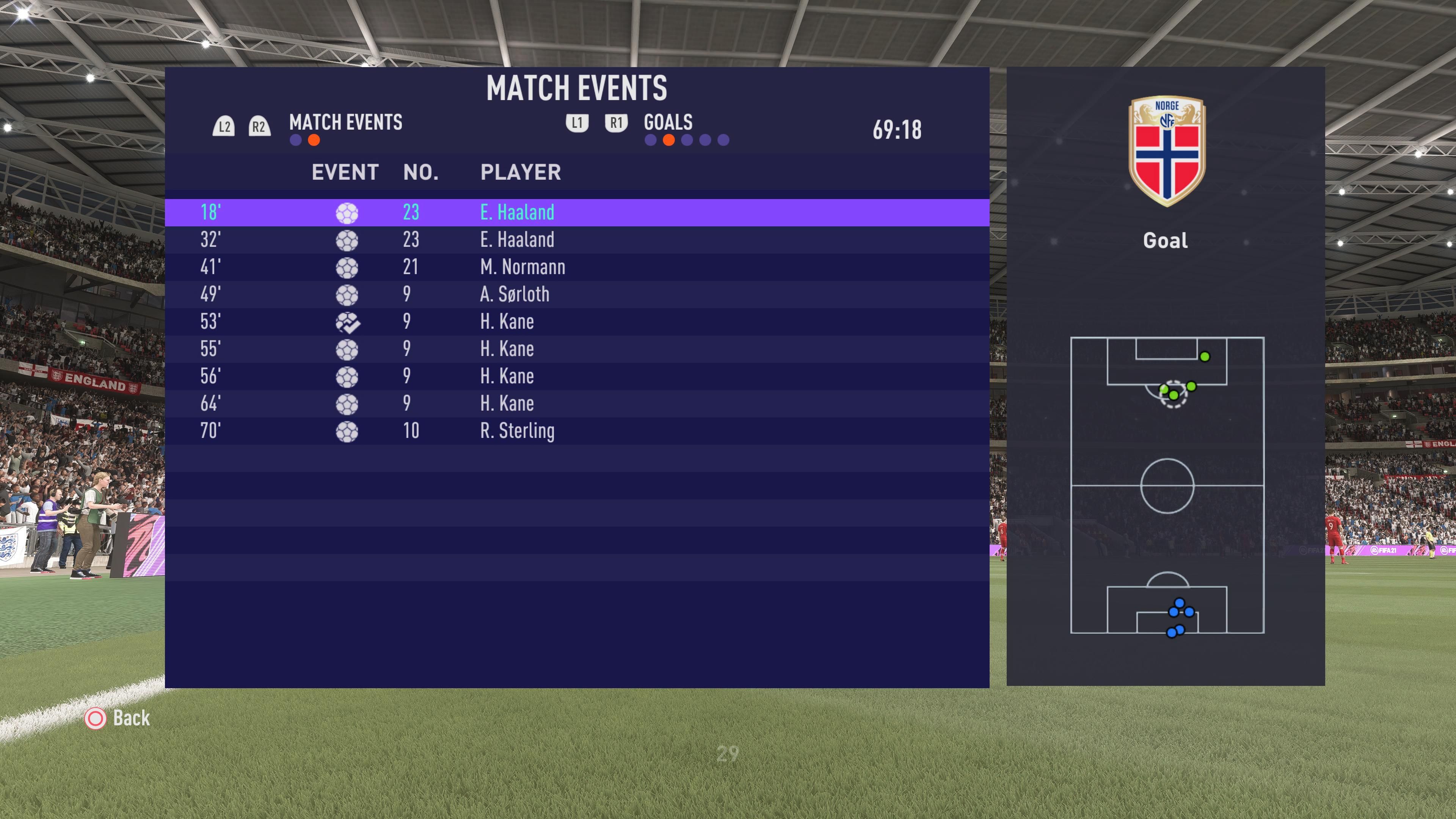 I took that screenshot just after my opponent paused to rejig after Sterling made it 5-4 England; they quit shortly after, but Sancho and Grealish ended up making it 7-4 before the Norwegians pulled the plug on proceedings.
So, I guess I learned Southgate Ball works until it doesn't? That England are boring by design but it can be very good or very bad? That we'll have the Germans on toast but struggle against Norway? I don't see Southgate changing his fundamentals anytime soon, but this whole experience might make me a bit more methodical in FIFA in the future. Just please Southgate, play Sancho, yeah? Please.
Source: Read Full Article