HeroClix Wonder Woman 80th Anniversary Is A Great Starter Set – And Celebration
DC HeroClix expansions are rarer than Marvel ones, so they often come with a special product. Wonder Woman's anniversary is the perfect time to make a special boxed set, and apparently also a chance to change the HeroClix rules. The result is the Wonder Woman 80th Anniversary Miniatures Game, a fantastic product that serves as the perfect jumping-on point for beginners.
For $39.99, you get 10 figures, a pack of tokens for terrain, a six-piece battle map, special anniversary WW dice, gameplay guide cards, and the latest edition of the HeroClix rulebook. That's a great value, as the 10 figures alone would run around $30 if bought in boosters. But are the "extras" of quality make? And is the box only for beginners? I decided to crack it open and show off all the contents so you can decide for yourself.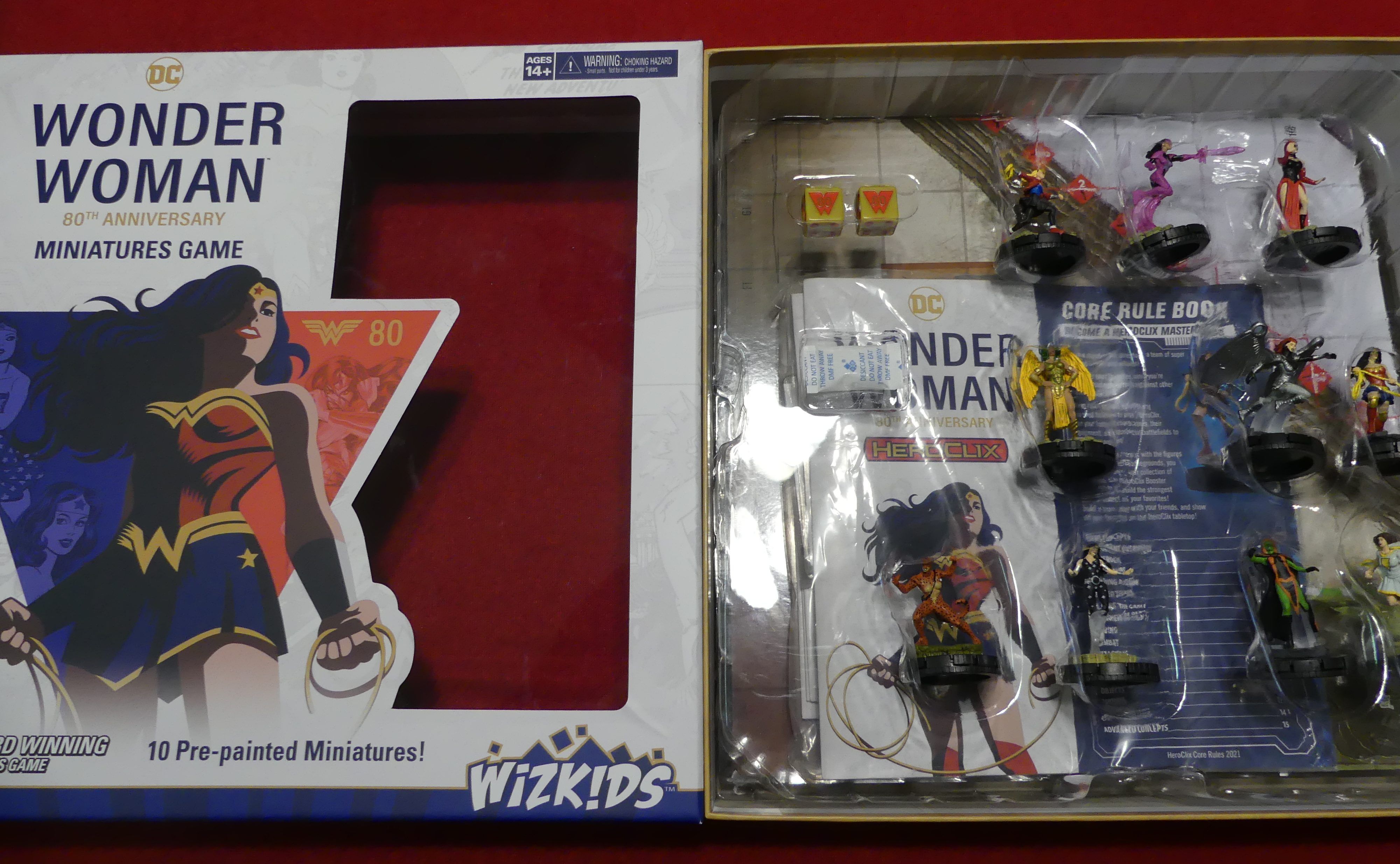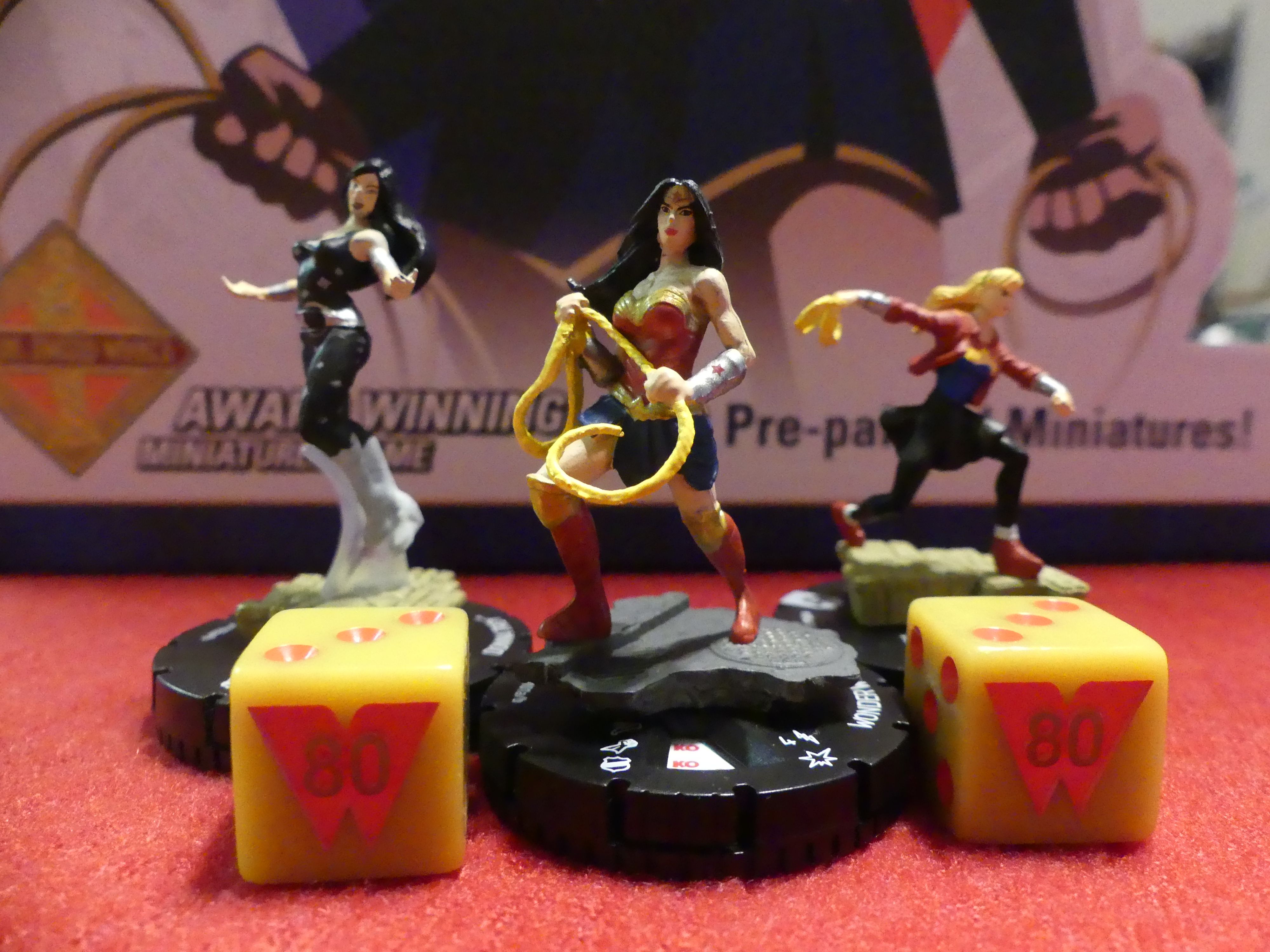 The first thing you see when you open the box is the 10 figures. These are the new model that debuted with the recent X-Men set, so bigger figures that allow for more detail and action-packed poses. That promise of quality mostly holds true here, with several characters depicted mid-flight and with nice armor work. Wonder Woman herself is shown in classic armor brandishing her lasso. There are still some awkward faces, but that's an inevitable consequence of miniature figures.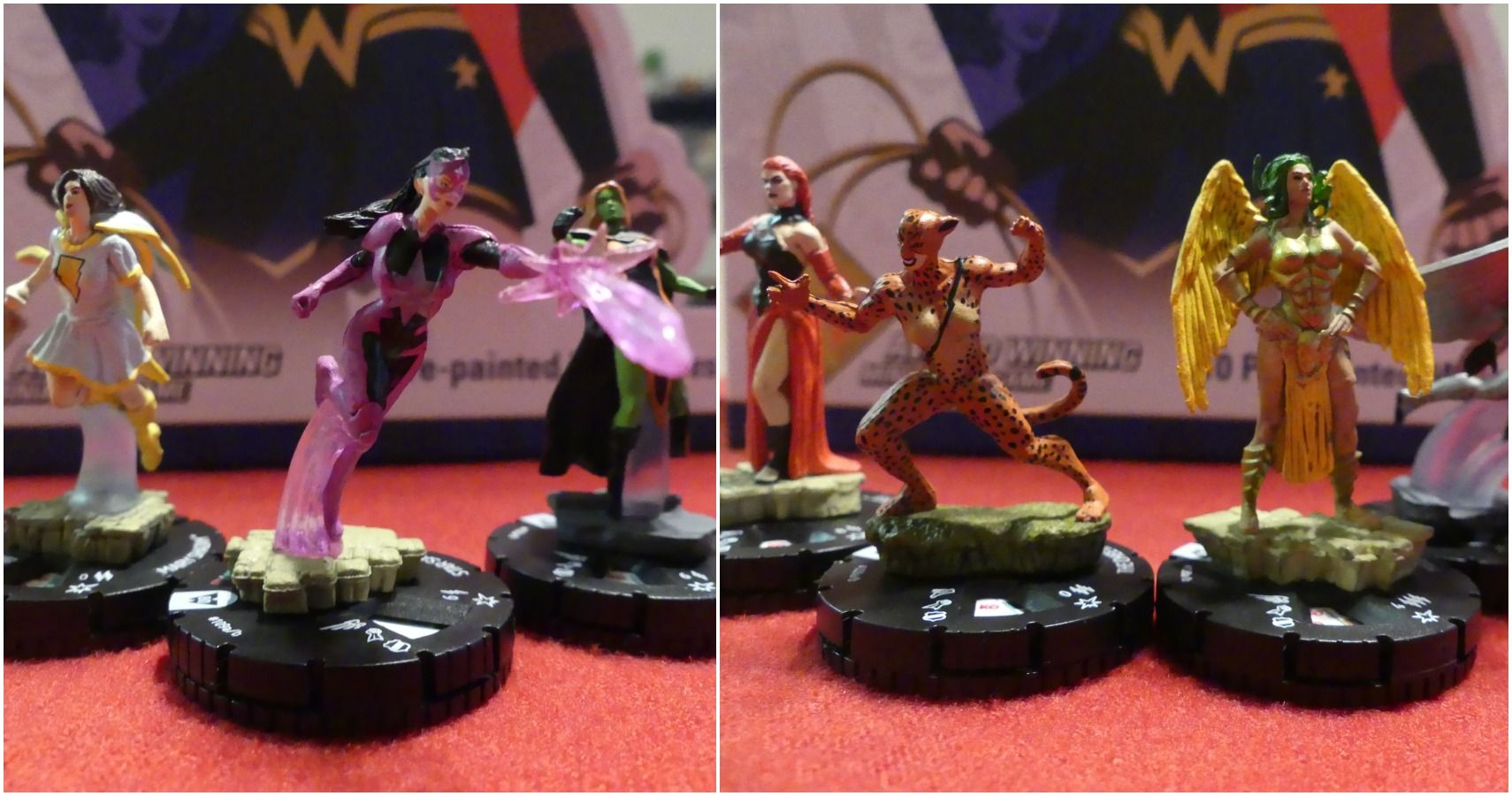 The figures also represent a nice variety of DC's women superheroes and villains. It's a nice touch during Women's History Month to see a set with not only WW, but also Miss Martian, Star Sapphire, and Mary Shazam. I also love the addition of the yellow dice made especially for WW's 80th.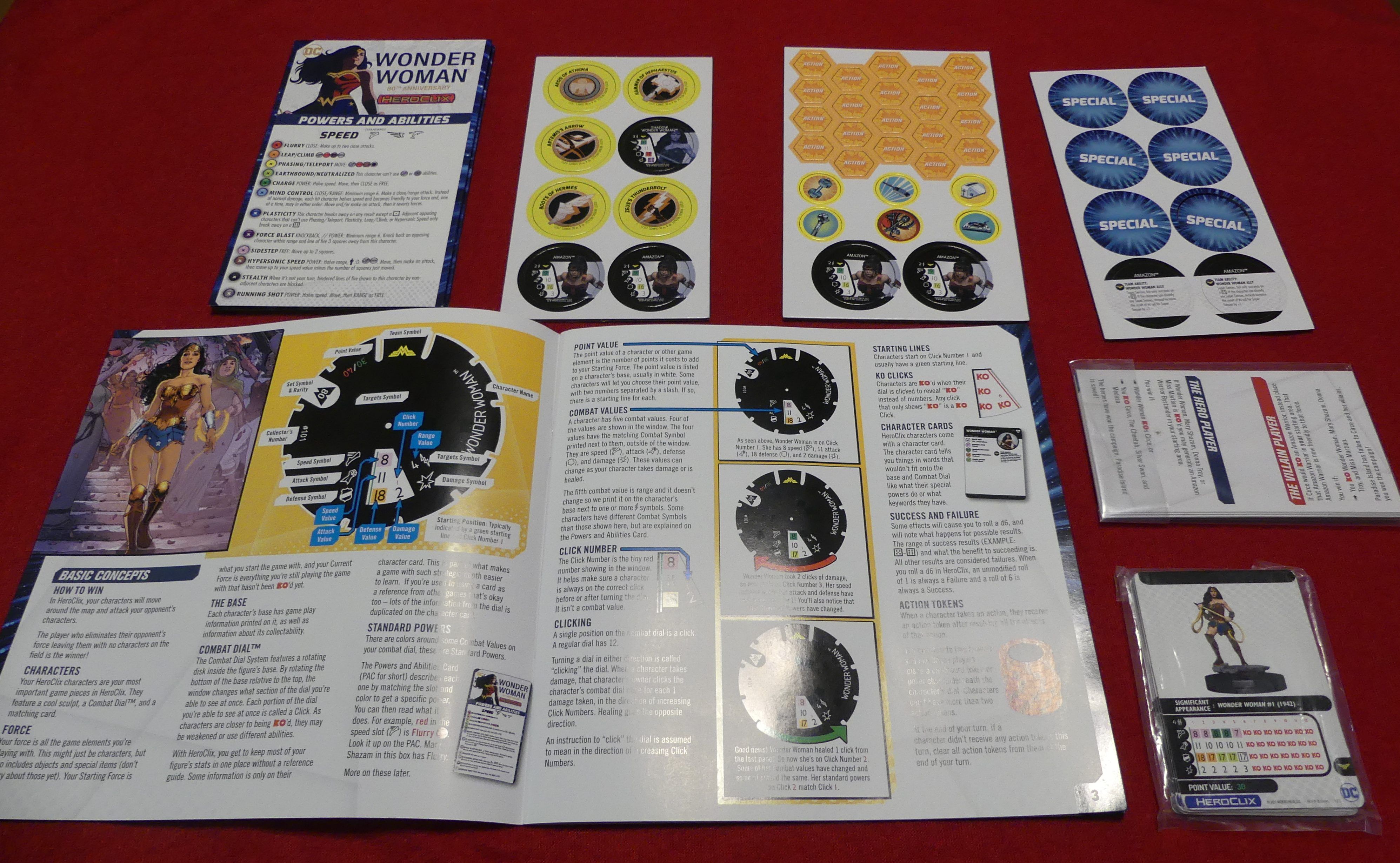 Under the plastic frame that keeps the figures safe is a baggie filled with all the cards, tokens, and booklets. I always love having physical tools to help learn the game, so I really appreciate the cards that list all the potential character powers and the tokens to represent various objects on the battlefield. Above all else, I think the most valuable thing is the rulebook.
The Marvel sets I've covered in the past come with a "Fast Forces" pack of six figures. As the name implies, it's a great way to have a decent battle-ready team in one purchase. But Fast Forces are only figures and cards – the onus of finding the HeroClix rules falls on the players. HeroClix does have PDFs on its site, and there are plenty of helpful videos on YouTube, but this physical rulebook is appreciated. It's also perfectly timed with HeroClix's rules update, making it a good get for newbies and veterans alike.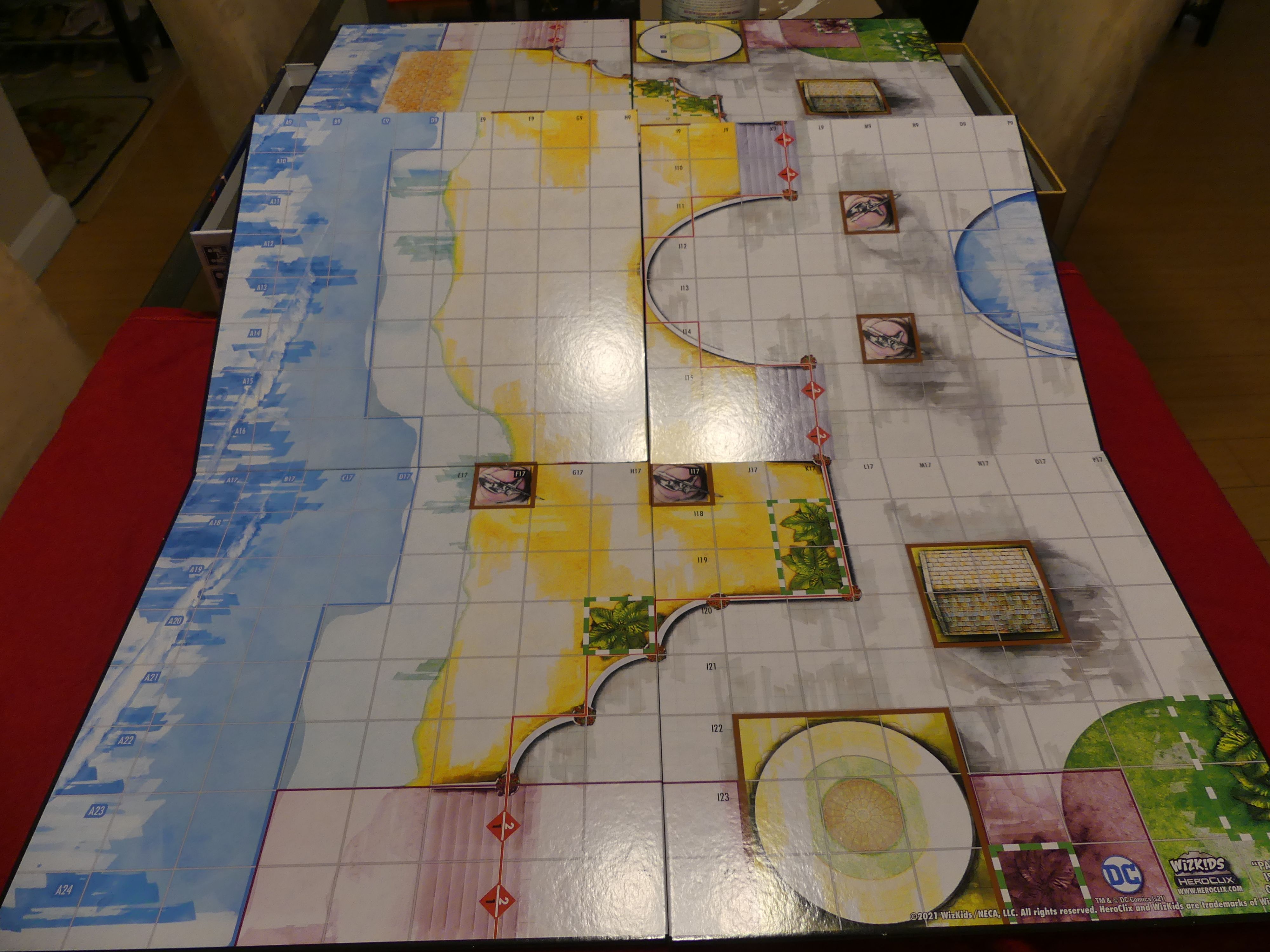 Finally, there are six cardboard panels that come together to make a huge battle map. This is another standout piece of the set. The Play at Home kits come with a foldout mat, but these double-sided panels dwarf it in quality. I think it's something WizKids should consider releasing on its own.
Putting it all together, the Wonder Woman 80th Anniversary Miniatures Game is a wonderful value. The rulebook, cards, and figures make it the best way to learn HeroClix. The sturdy battle map and figures would be a great compliment to any longtime player's collection. I know these sets are often geared towards DC, but I wouldn't mind seeing a Spider-Man one. Just saying, WizKids.
A review copy of the Wonder Woman 80th Anniversary Miniatures Game was provided by WizKids. They're due out on April 21 with some limited stores getting an early release. Check the WizKids site or your local game store for more information.
Next: How Does Annapurna Interactive Manage To Publish Nothing But Bangers?
TheGamer Originals
Tabletop
DC
Wonder Woman
HeroClix
Sergio is the Lead News Editor for TheGamer. But usually he asks people to call him "Serg" because he wants to sound cool like the guy from System of a Down. He began as a convention reporter for FLiP Magazine and Albany Radio's The Shaw Report to get free badges to Comic-Con. Eventually he realized he liked talking to game developers and discovering weird new indie games. Now he brings that love of weird games to TheGamer, where he tries to talk about them in clickable ways so you grow to love them too. When he's not stressing over how to do that, he's a DM, Cleric of Bahamut, cosplay boyfriend, and occasional actor.
Source: Read Full Article