Animal Crossing: New Horizons Autumn-Themed Codes To Celebrate Turkey Day
With Turkey Day just around the bend, islanders in Animal Crossing are flocking to the Able Sisters Kiosk to find and create their own themed outfits to celebrate the seasonal festivities. If you haven't picked out your holiday attire yet, here are a slew of custom designs to choose from!
Autumn Chic By Velouria
The primary contributor on this list is villager Velouria of Moonbell Island. If you like these festive designs, use Velouria's creator code to check out their entire collection.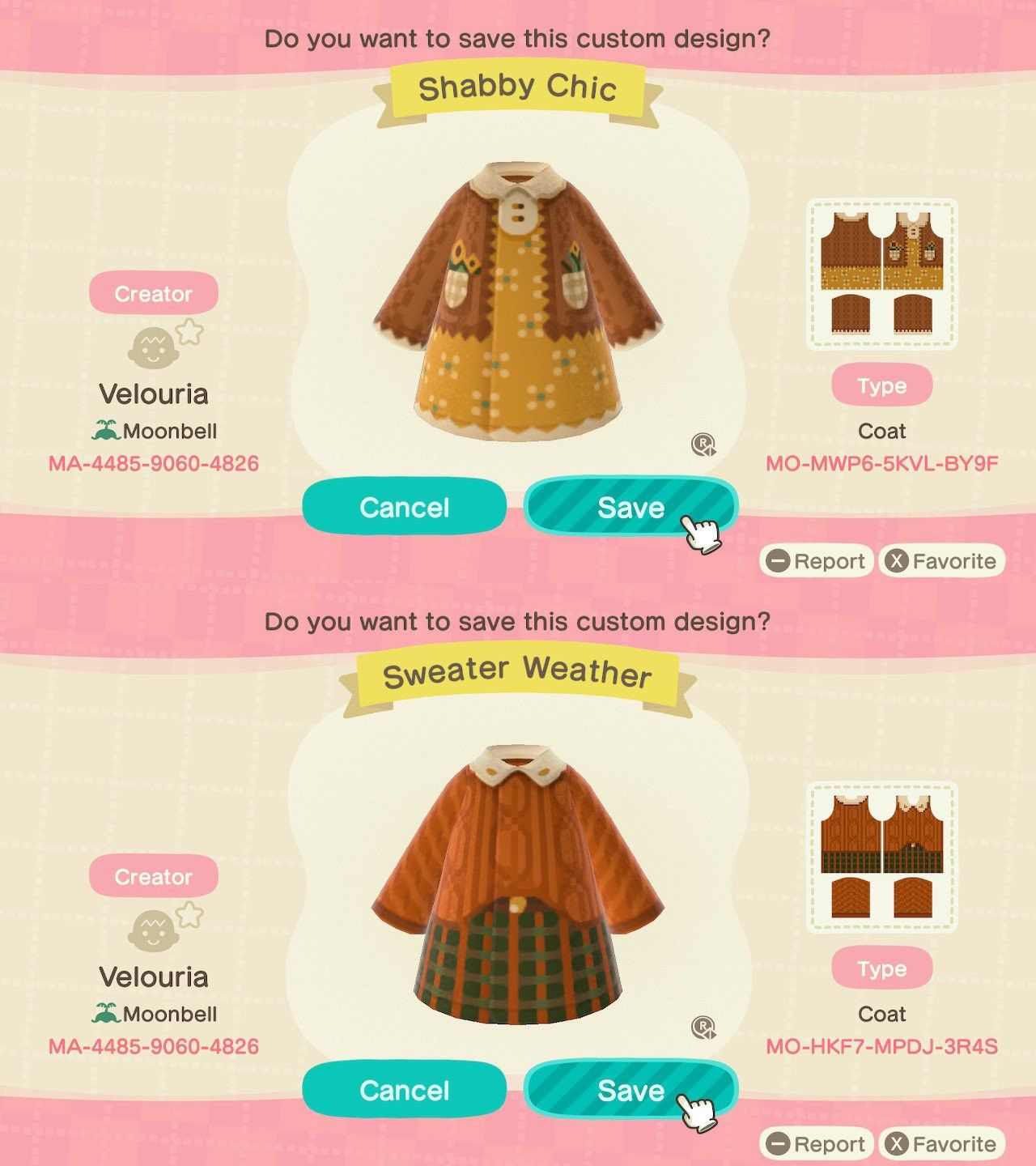 Kicking the Turkey Day collection off are these cozy sweater dresses. Keep nature thriving with a floral number complete with sunflowers poking out of plaid cardigan pockets, or start the transition into winter with a red and green plaid pattern instead.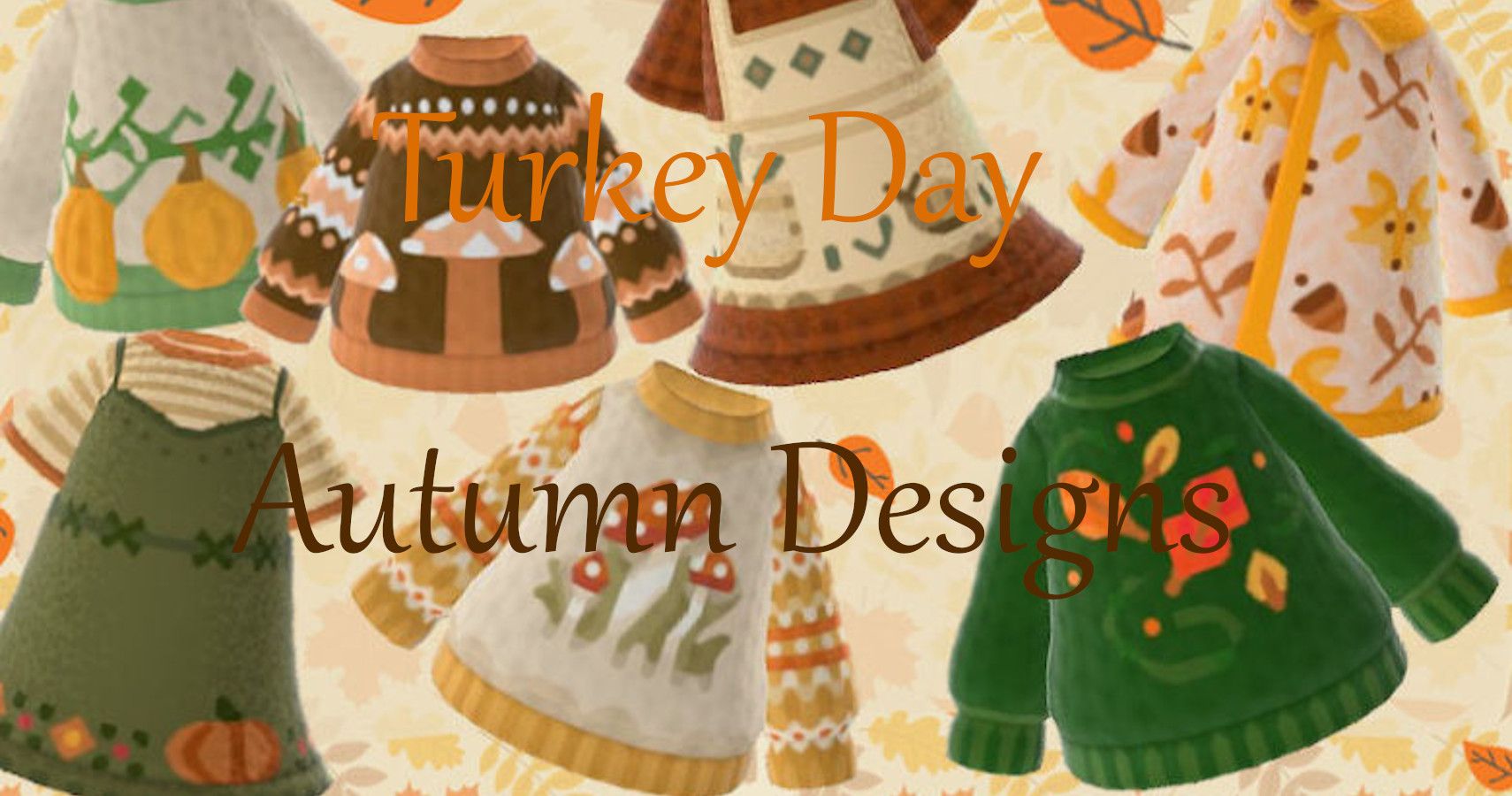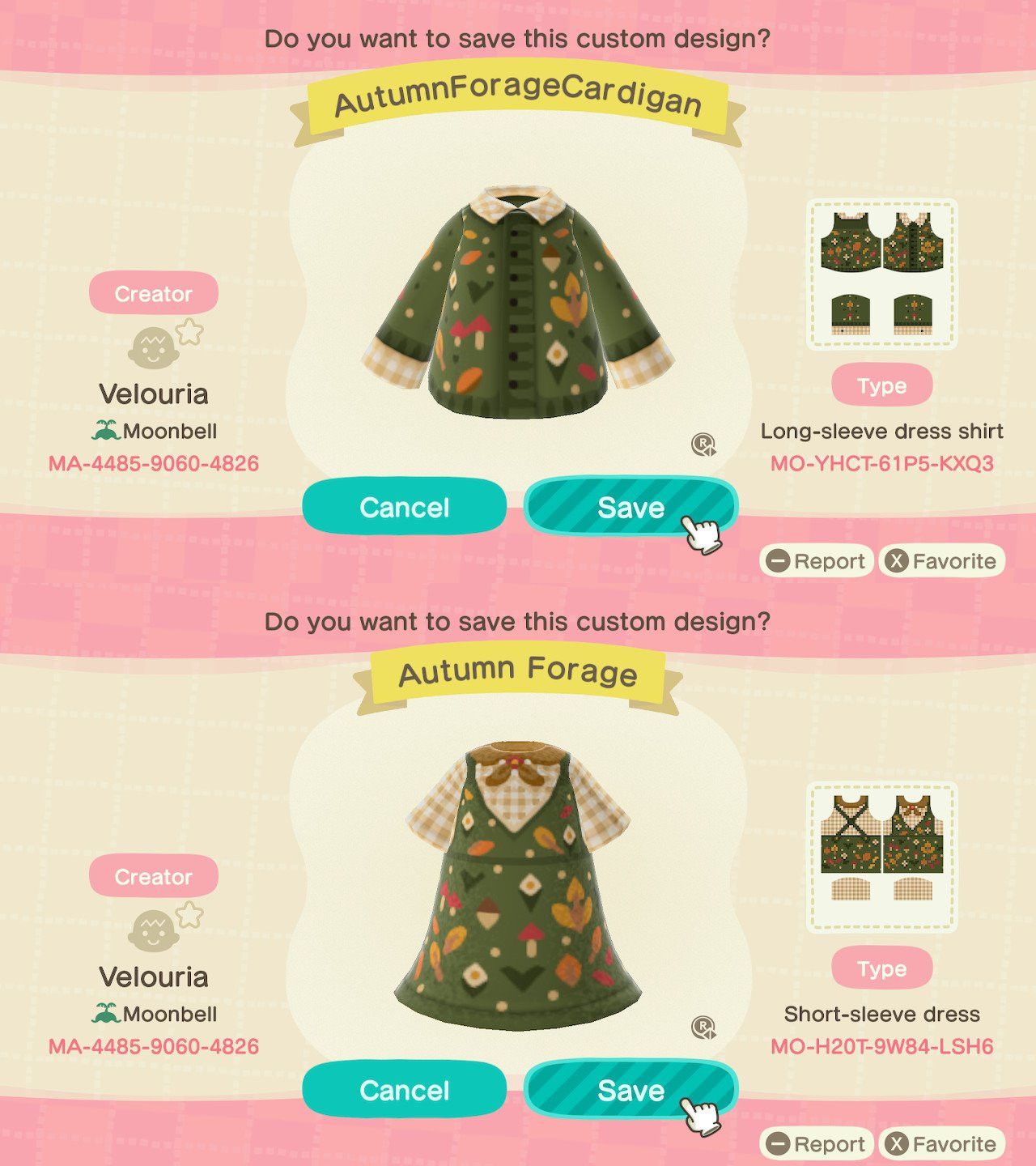 Spice up the traditional plaid attire with a busy print of leaves and forage, available in a sweater or dress design.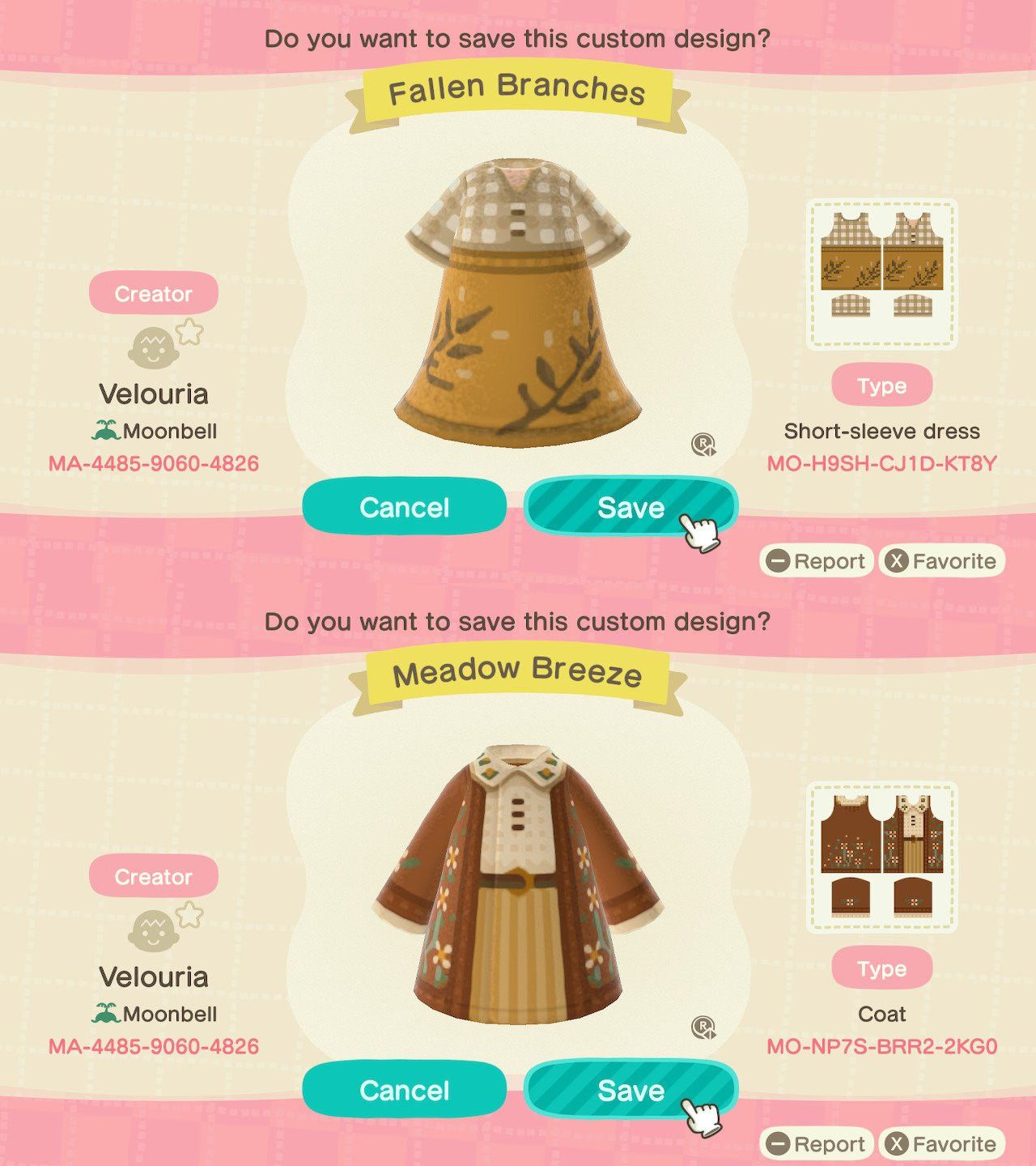 Take Turkey Day in a more victorian direction with a plaid dress shirt and an underbust skirt detailed with fallen branches. Or go traditionally colonial in a belted and collared dress layered with a long cozy cardigan emblazoned with flowers and vines.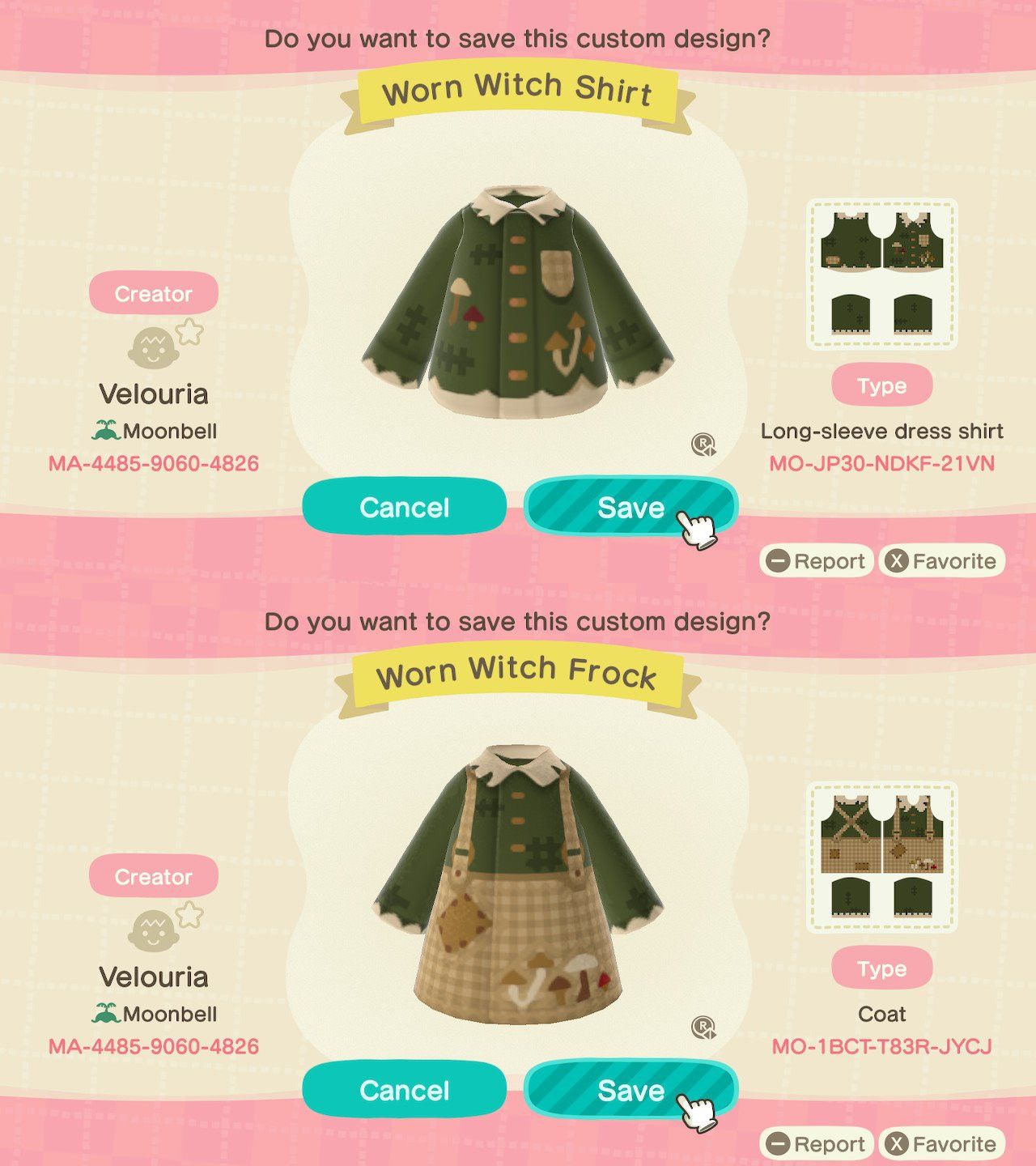 Bring out the witchy herbalist in you with this earthy style. Choose from a well-worn button-down cardigan with a plaid pocket and mushroom accents, or go straight from the garden to the kitchen in a plaid patchy apron.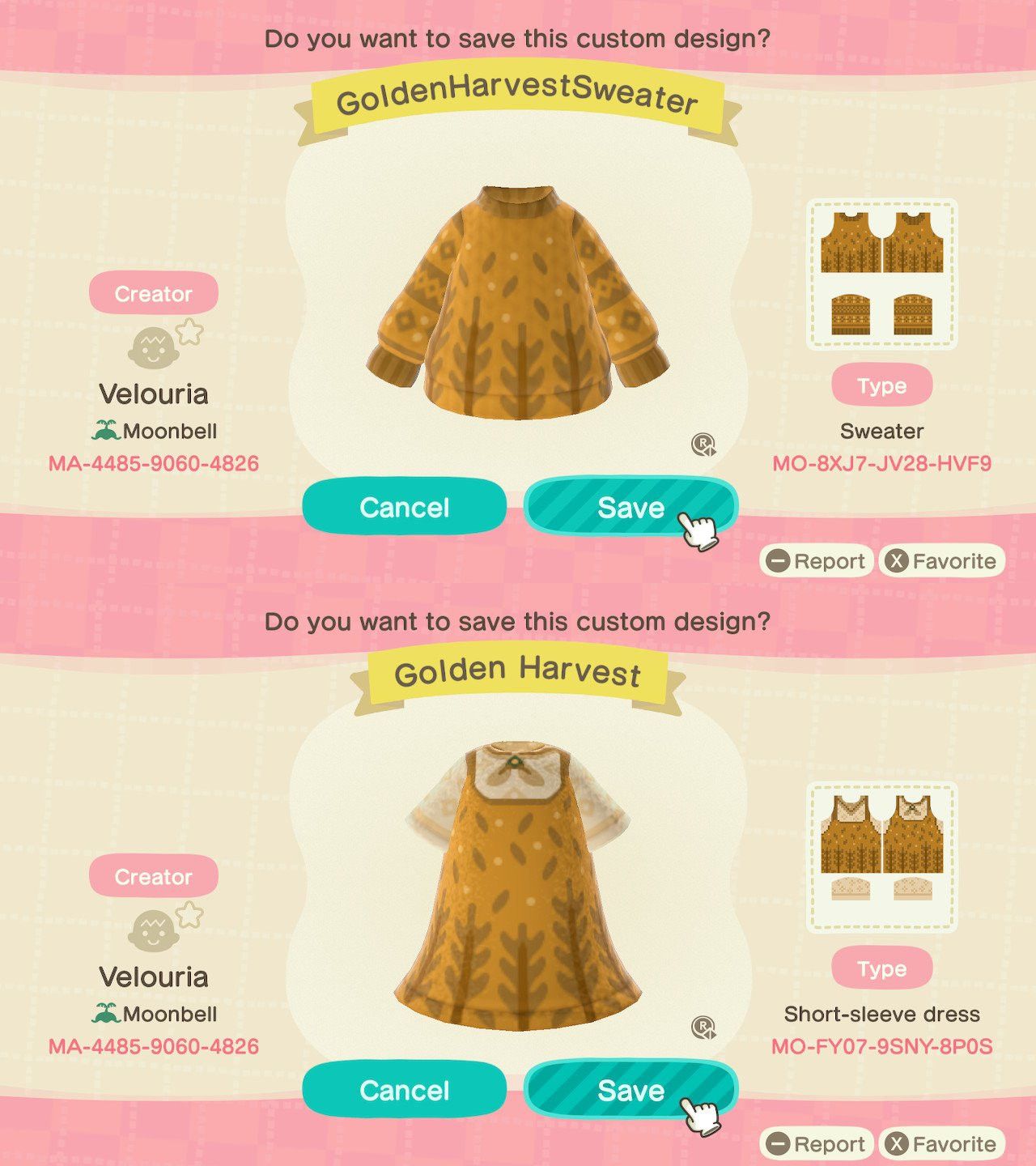 Brighten up the feast with Velouria's Golden Harvest line. Choose from a cozy sweater or t-shirt dress, both printed with a lovely autumn forest scene.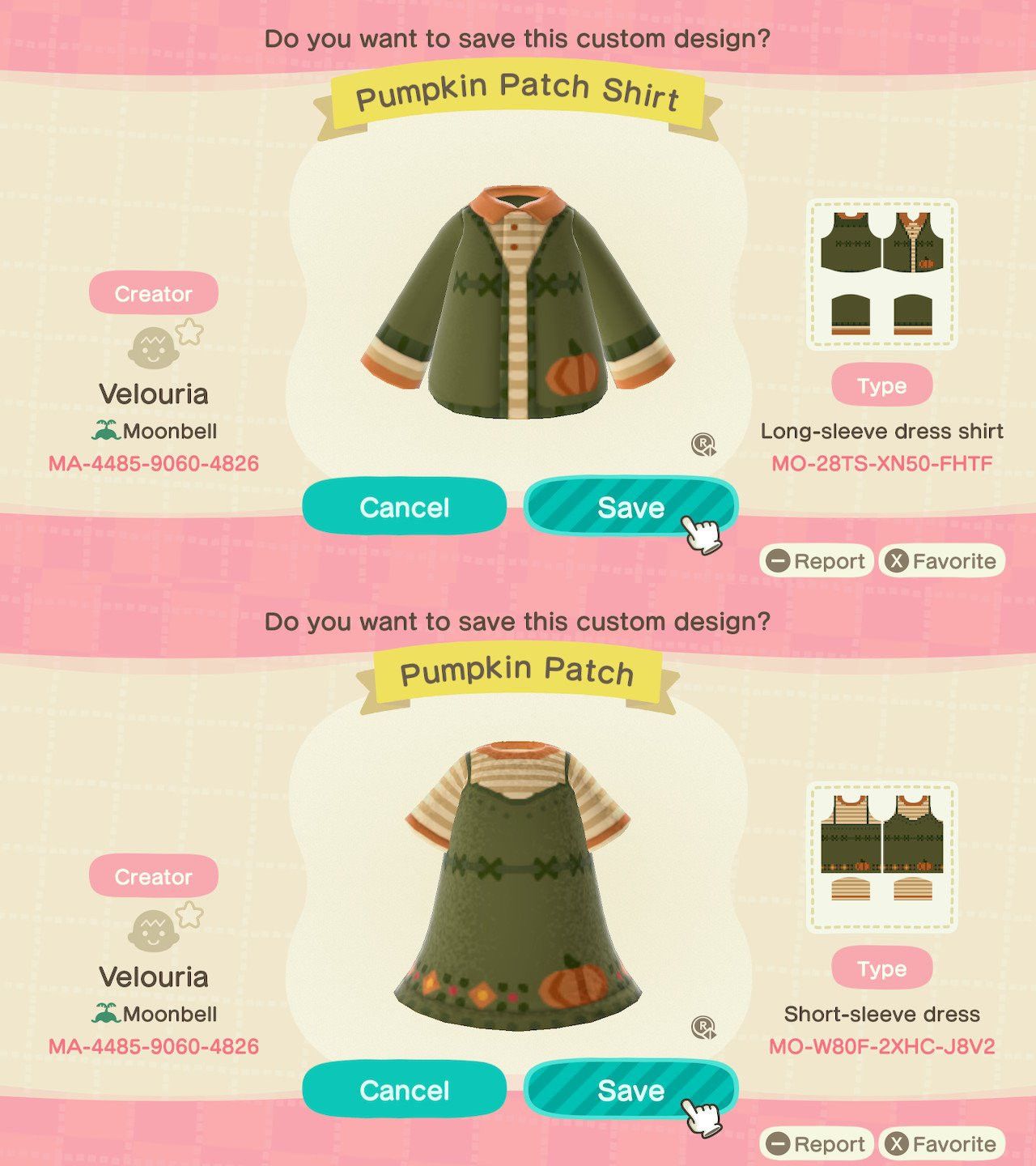 Stand out from all the plaid patterns around the table with the orange striped shirts and a cardigan or dress embroidered with a pumpkin design.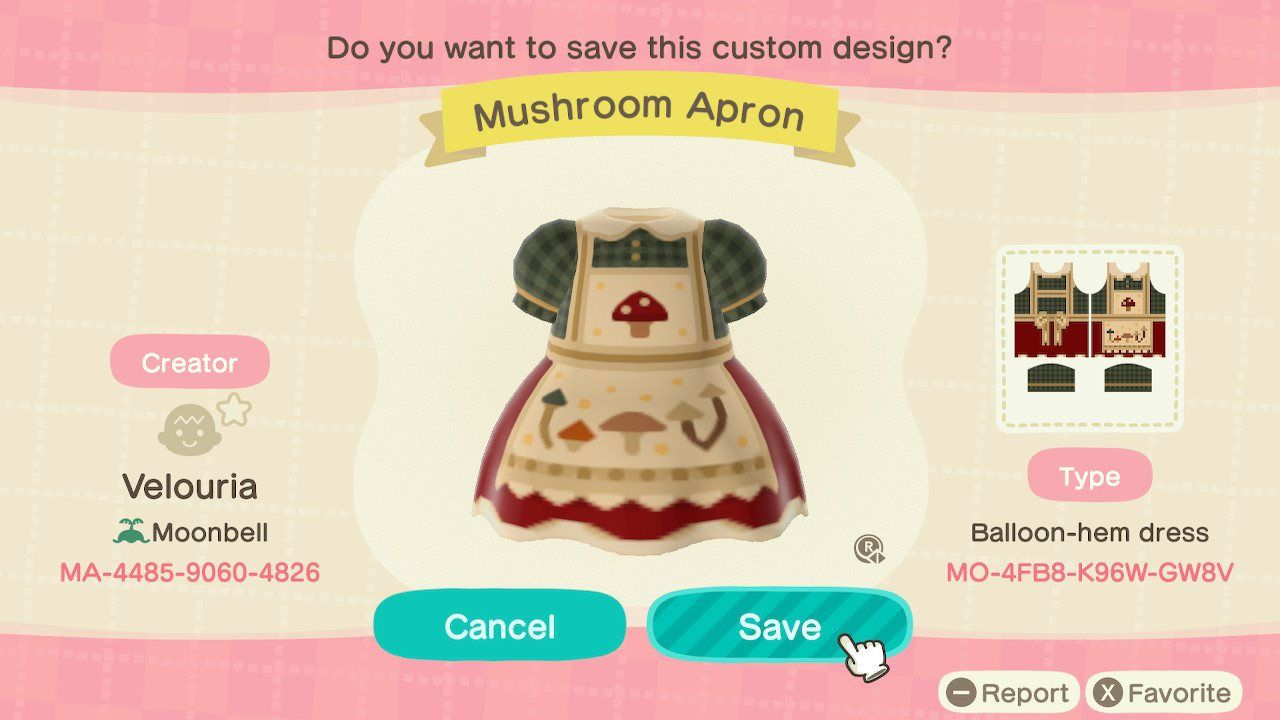 Stay fashionable while cooking the Turkey Day feast for your friends in this wonderfully festive puff-sleeved dress, equipped with a mushroom detailed apron.
Fall Feelings By Mia
Villager Mia of Reverie Island is another top contributor to Animal Crossing's Turkey Day fashion, so be sure to check out all of their creations using the creator code below.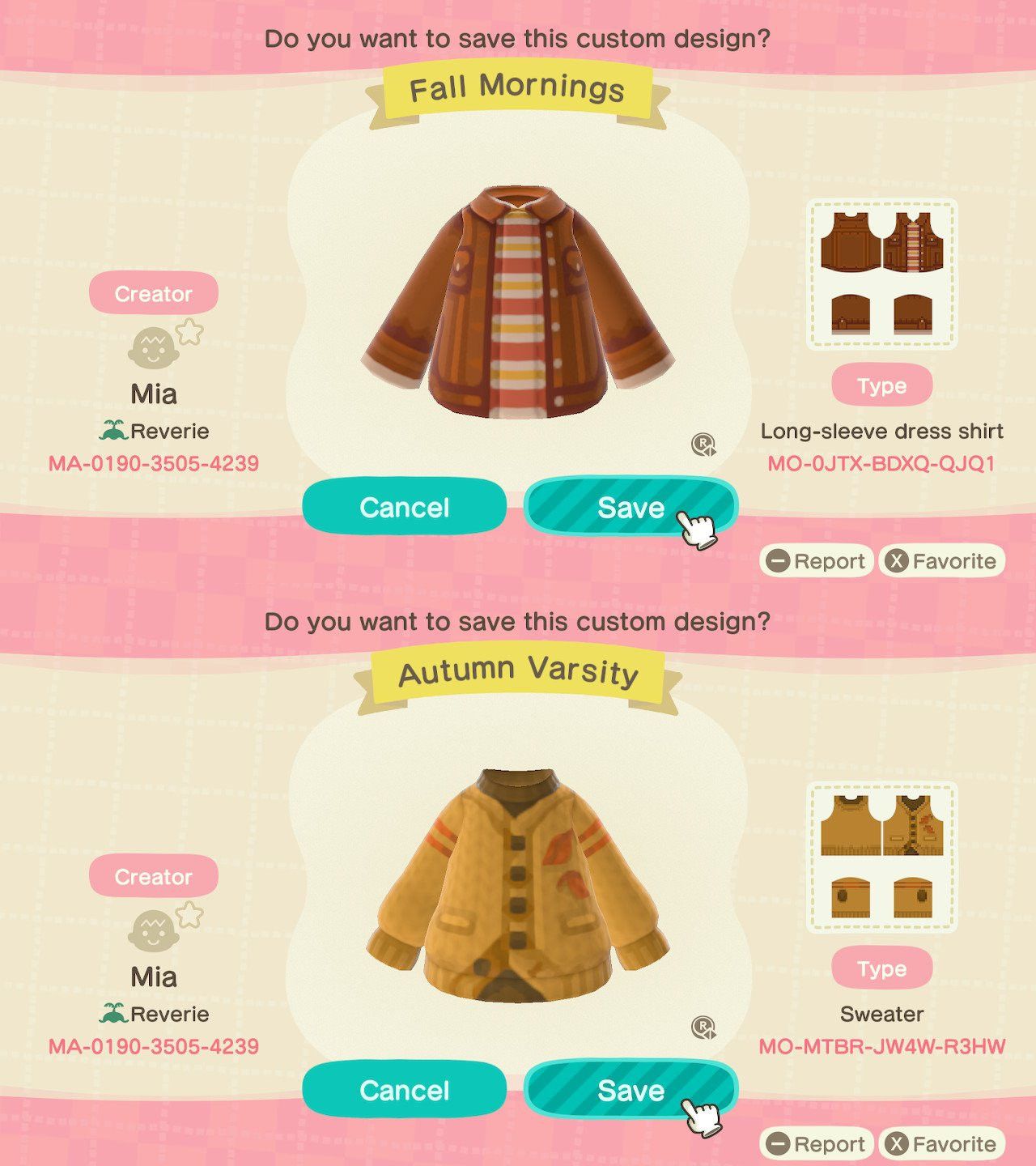 Attend your Turkey Day celebration in vintage fashion. Choose from Mia's red striped shirt and a brown leather jacket, or their autumn take on a varsity jacket complete with banded sleeves and a falling leaves emblem.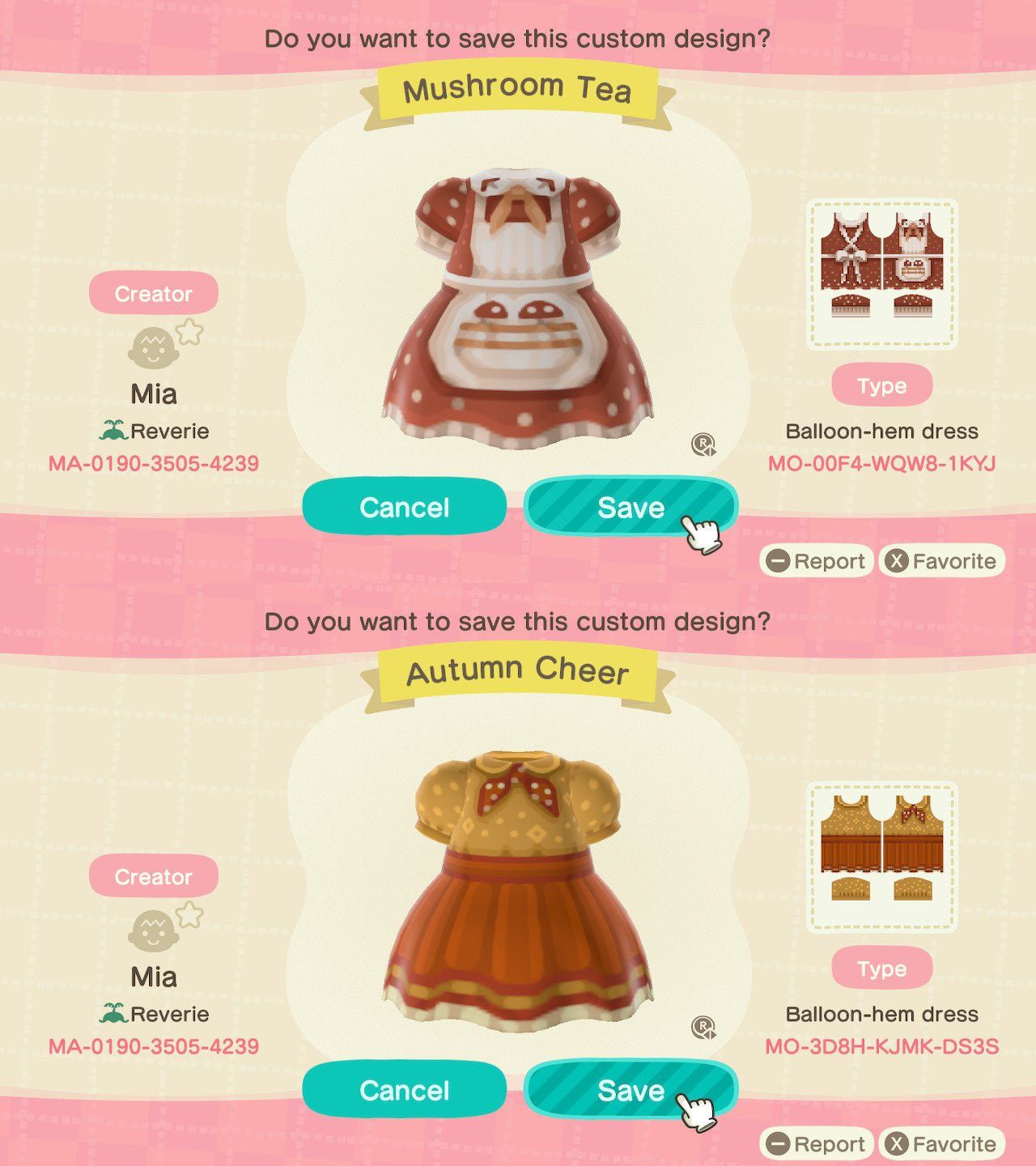 Liven up the festivities with some puff sleeve dresses. Choose from a polka-dot dress and a mushroom apron to match or a bright red and gold number with a striped hem, geometric top, and polka-dot accents. Both are complete with adorable neckerchiefs.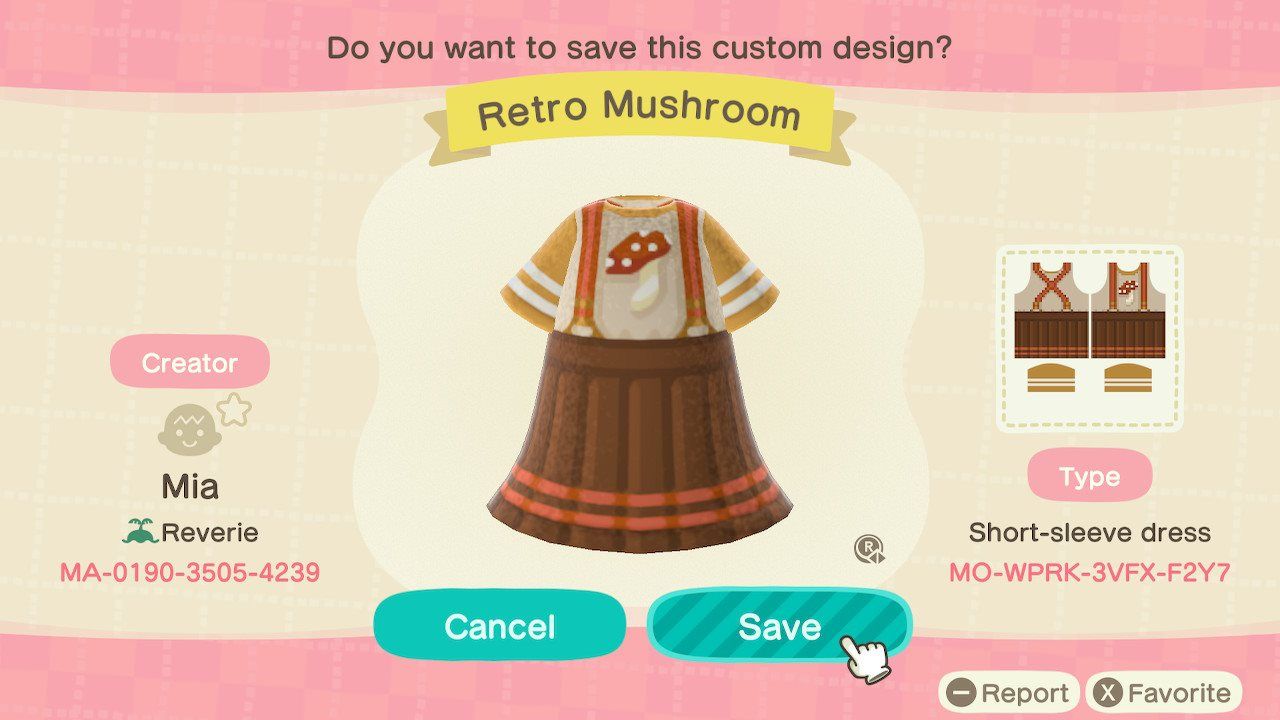 If you're into the retro look, try on this mushroom baseball style tee with strappy suspenders and a pleated skirt.
Mushie Fashion By Brandy
Villager Brandy of Meringue Island also has a few designs to contribute for all you mushroom foragers out there.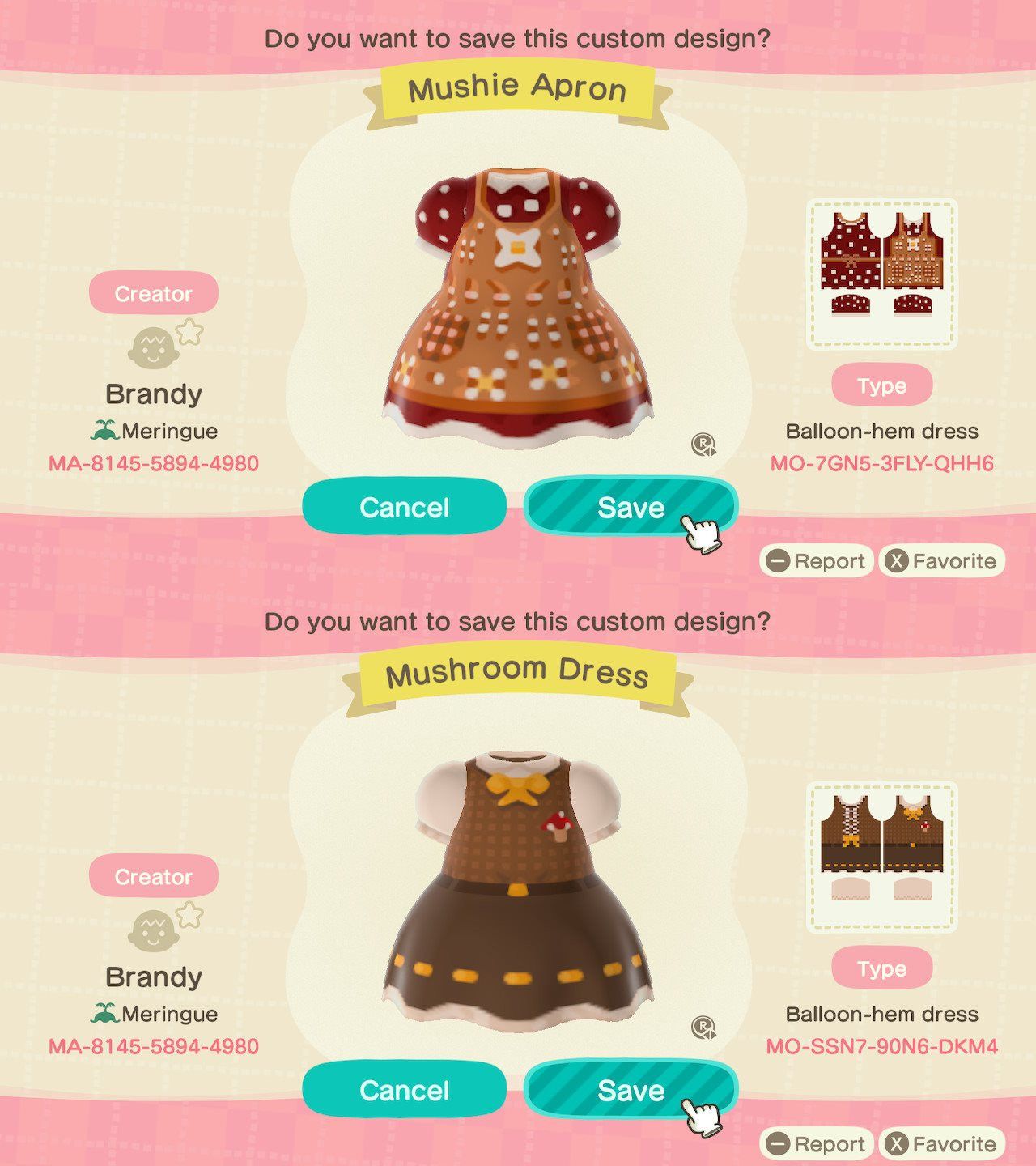 First up are a couple more puff-sleeved designs. Choose from an eclectic blend of polka-dots, plaid, and flowers or a combination of earthy shades, orange accents, and a simple mushroom detail.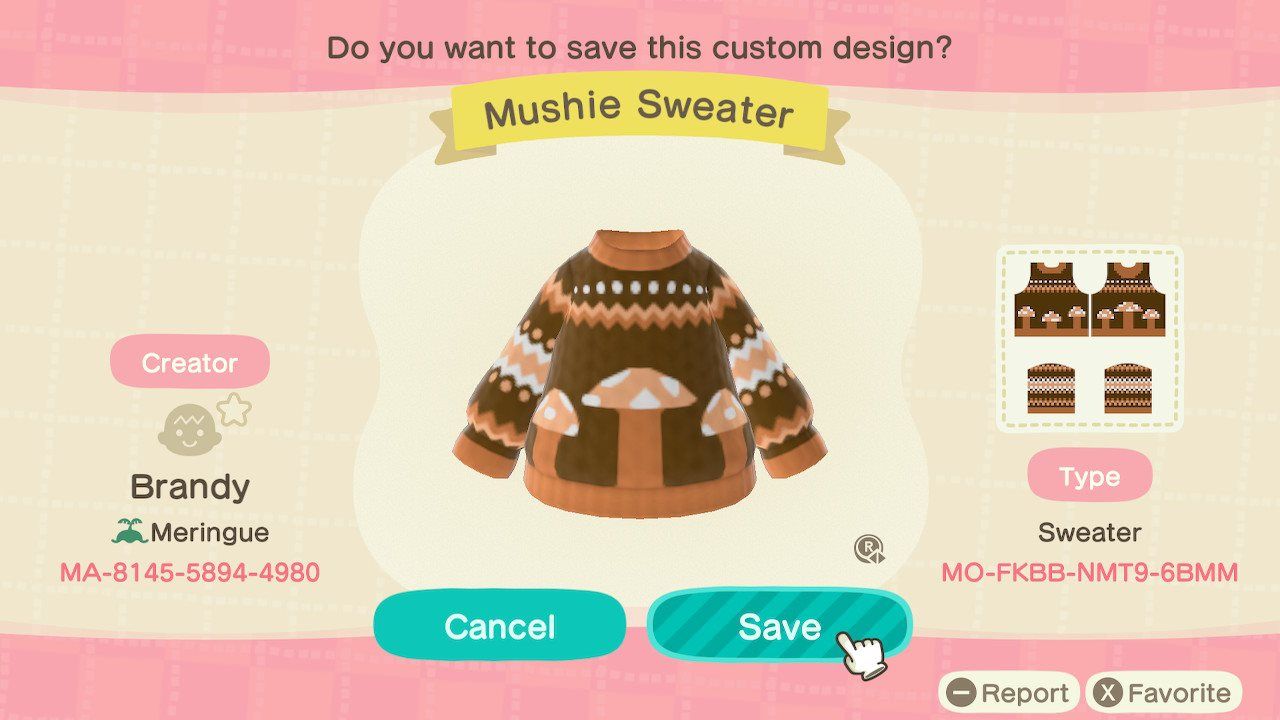 You can also snuggle up in Brandy's 'Mushie Sweater' after the Turkey Day feast. Patterned sleeves and plump mushroom decals sewn in autumnal colors make the perfect after-dinner loungewear.
Foxy Prints By Xunif
Villager Xunif of Blossom Island created a fabulous print of autumn leaves, acorns, and fox. Show off your nature-loving side with this print, available in a coat or puff-sleeved dress design.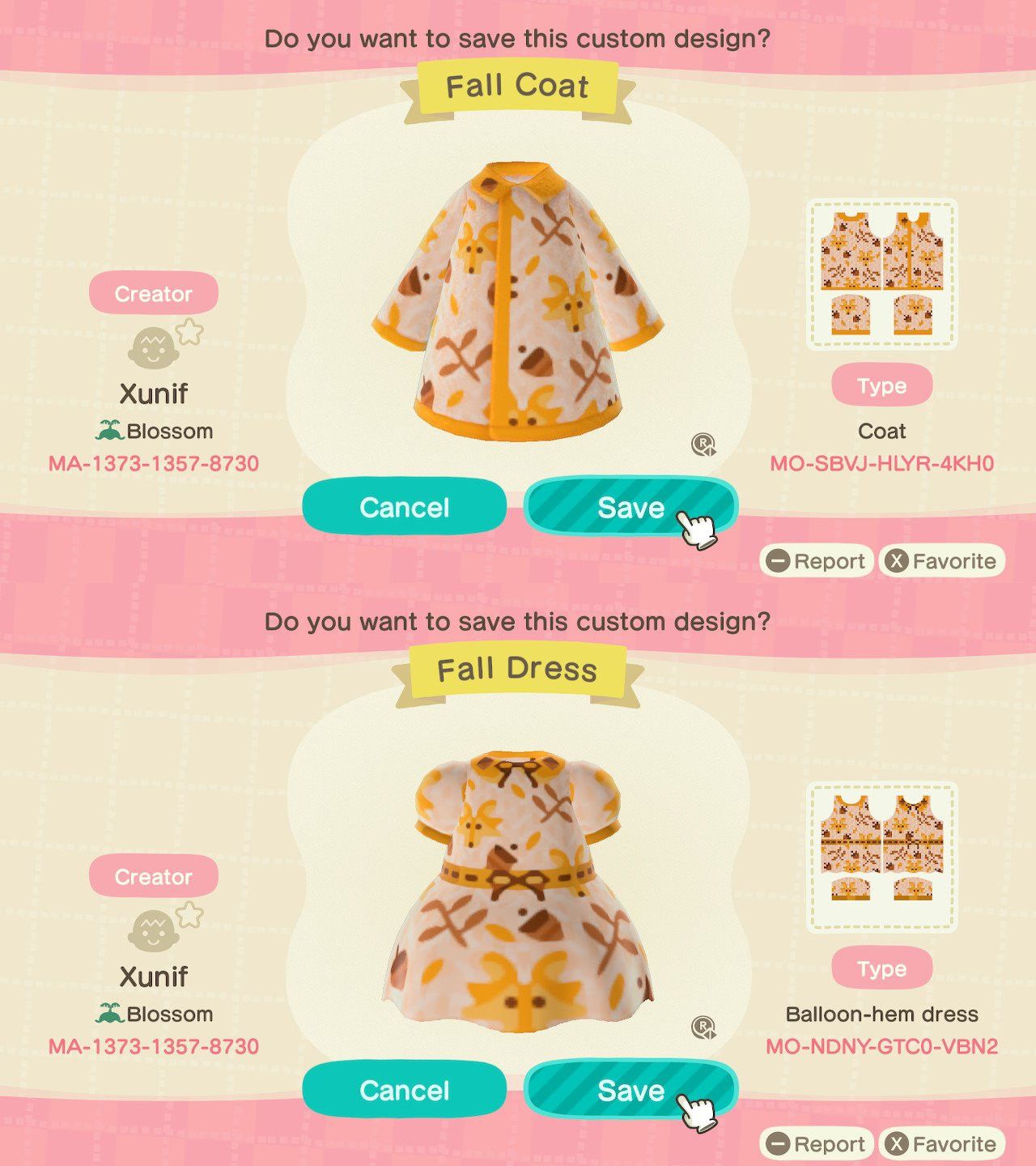 Coats 'N' More By SudiBear
Keep the autumnal equinox's celebration going through Turkey Day with SudiBear's 'Moon Phase' cardigan and beanie.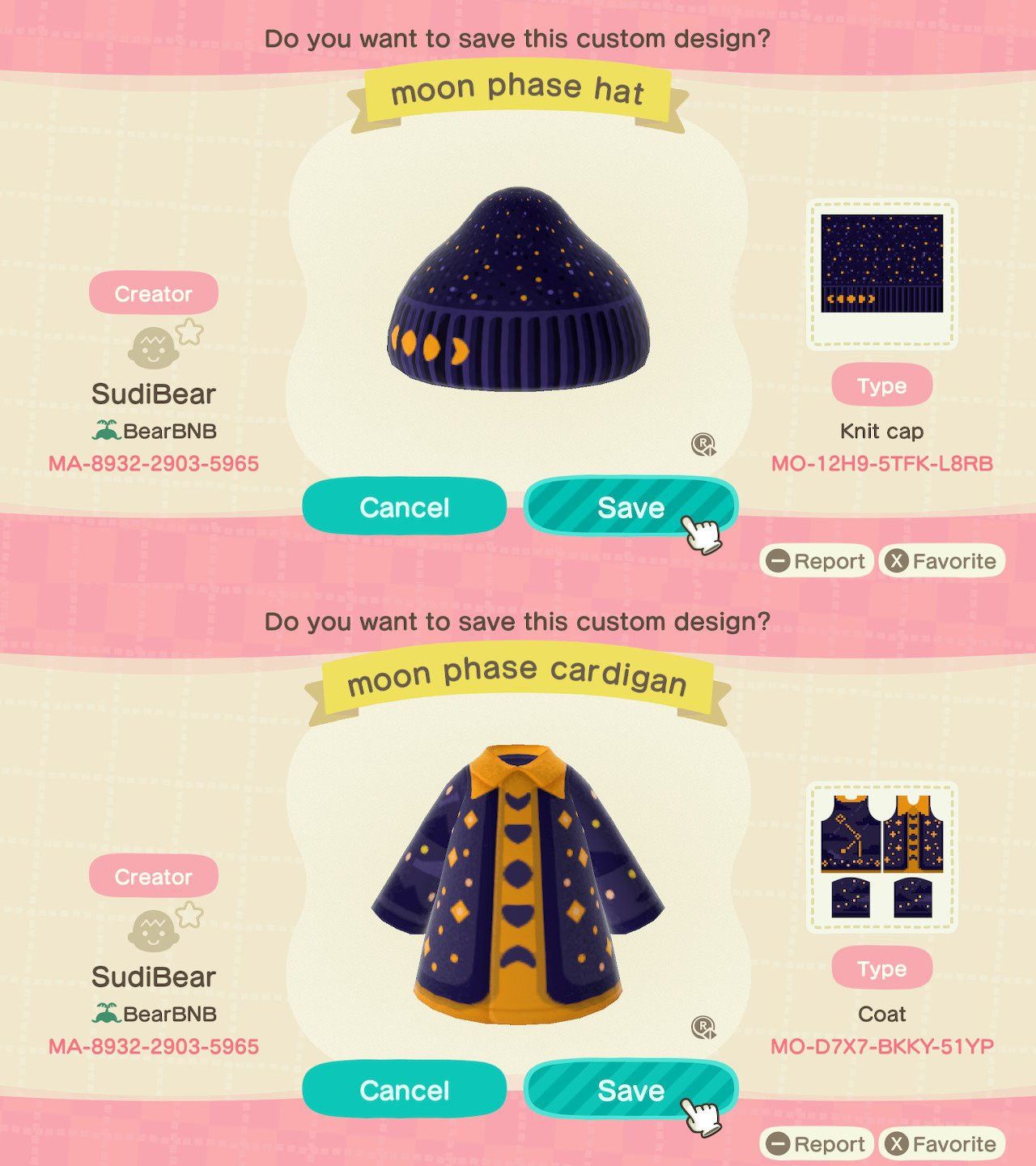 BearBNB Island's SudiBear also created this cozy-looking cream cardigan with rainbow-colored details to brighten up the Turkey Day festivities.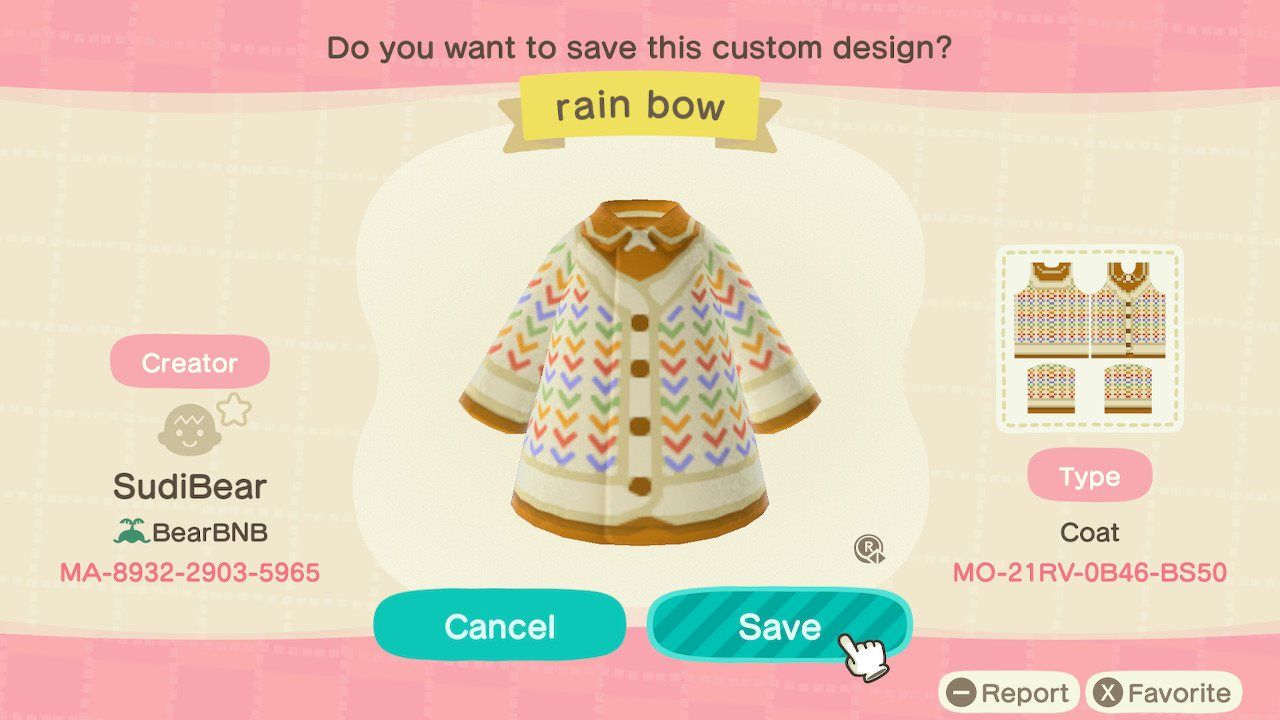 Traditional Patterns By May
Keep Turkey Day more traditional with these quaint designs by villager May of Luneville Island.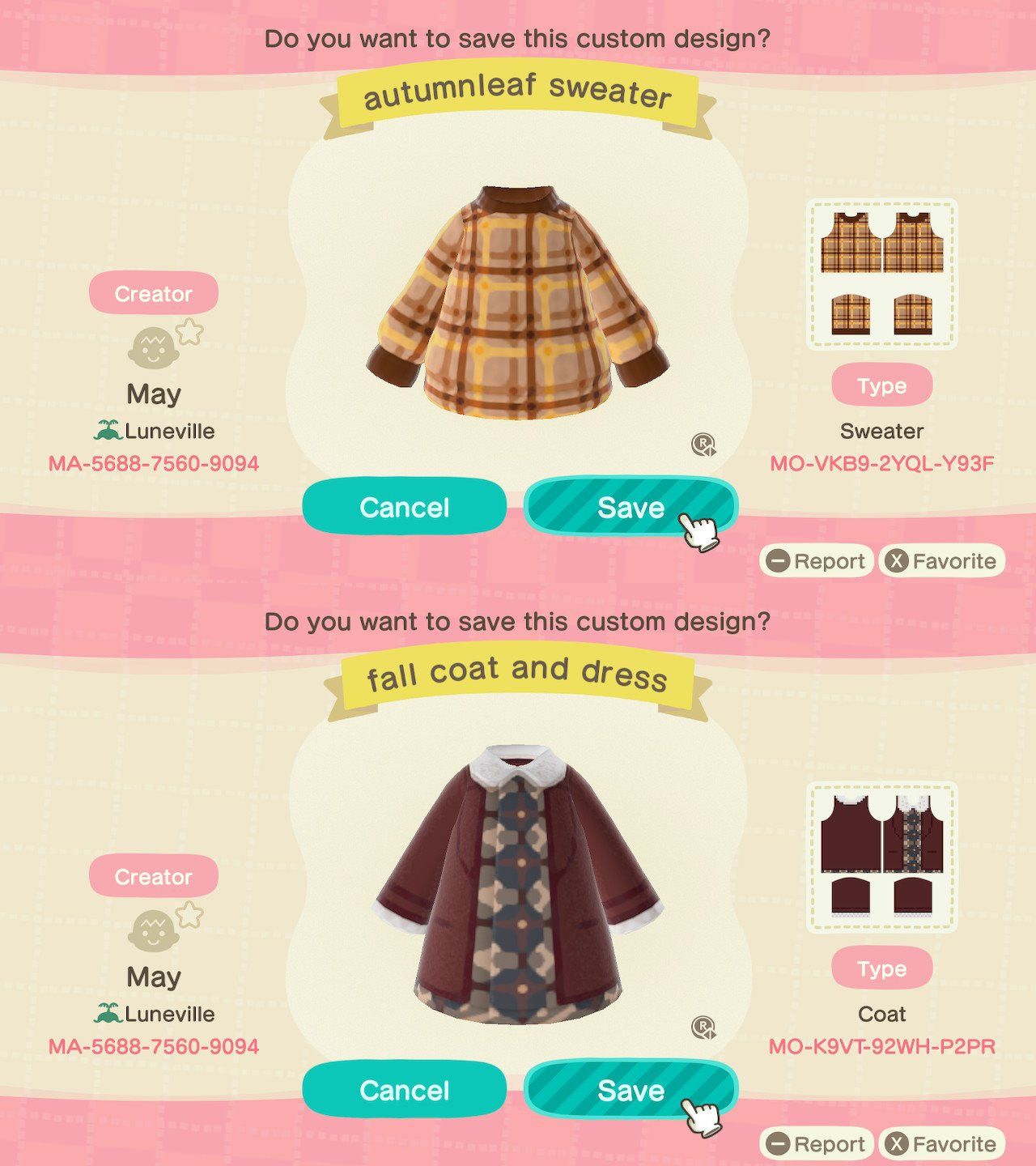 May has created a warm orange and brown plaid sweater and a collared dress shirt in more subdued tones that they have layered with a chocolate-colored outer layer.
Cozy Harvest By Jen
Stay comfy in islander Jen's harvest designs.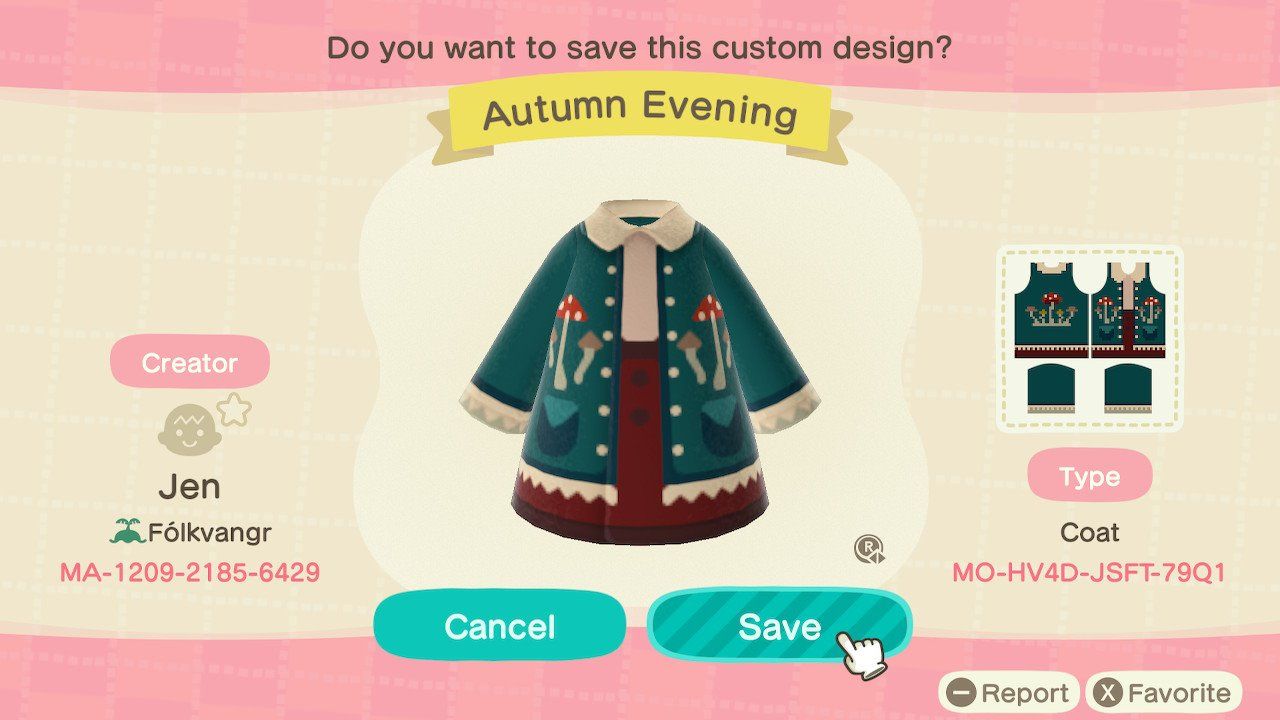 This earth-toned dress is given a pop of color with its dark teal outer layer and red and white mushroom design.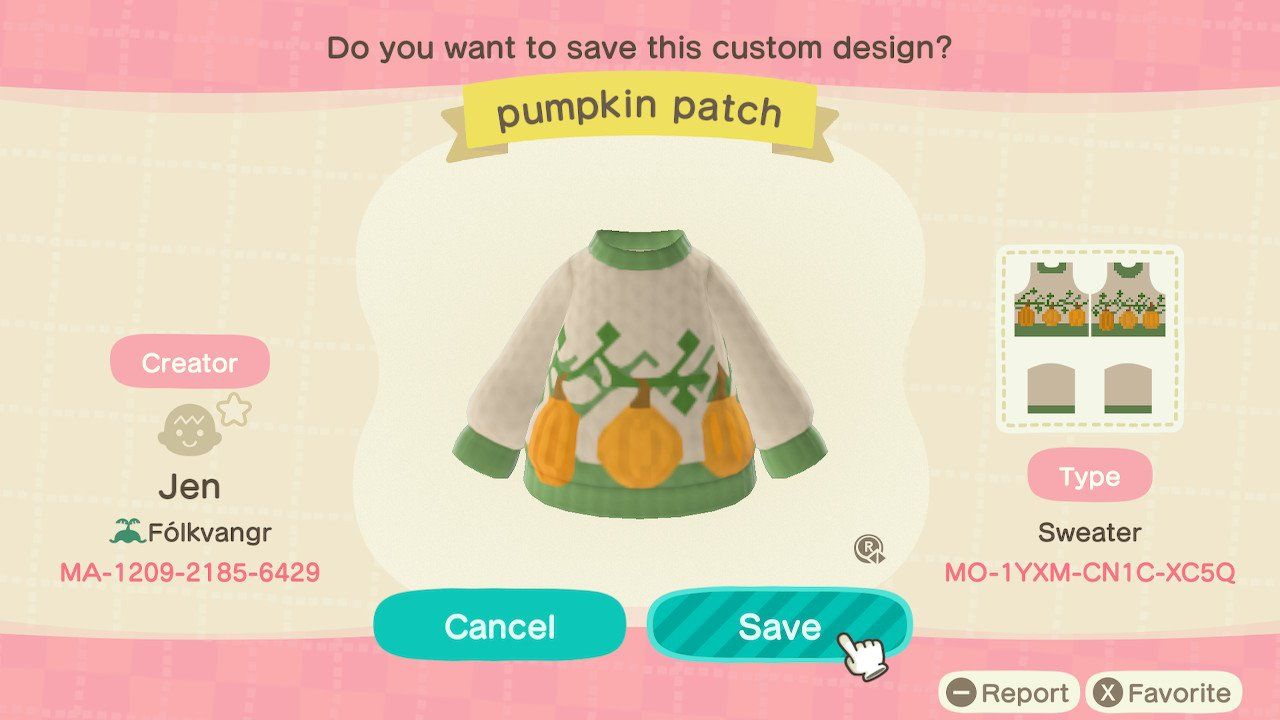 The Fólkvangr islander's 'Pumpkin Patch' sweater is a great option to keep cozy in classic fall fashion.
Falling Leaves By lex
Last but not least is the evergreen 'Falling Leaves' sweater by Adelaide's islander, lex, which offers a great contrast of colors to diversify all the earthy tones at Turkey Day.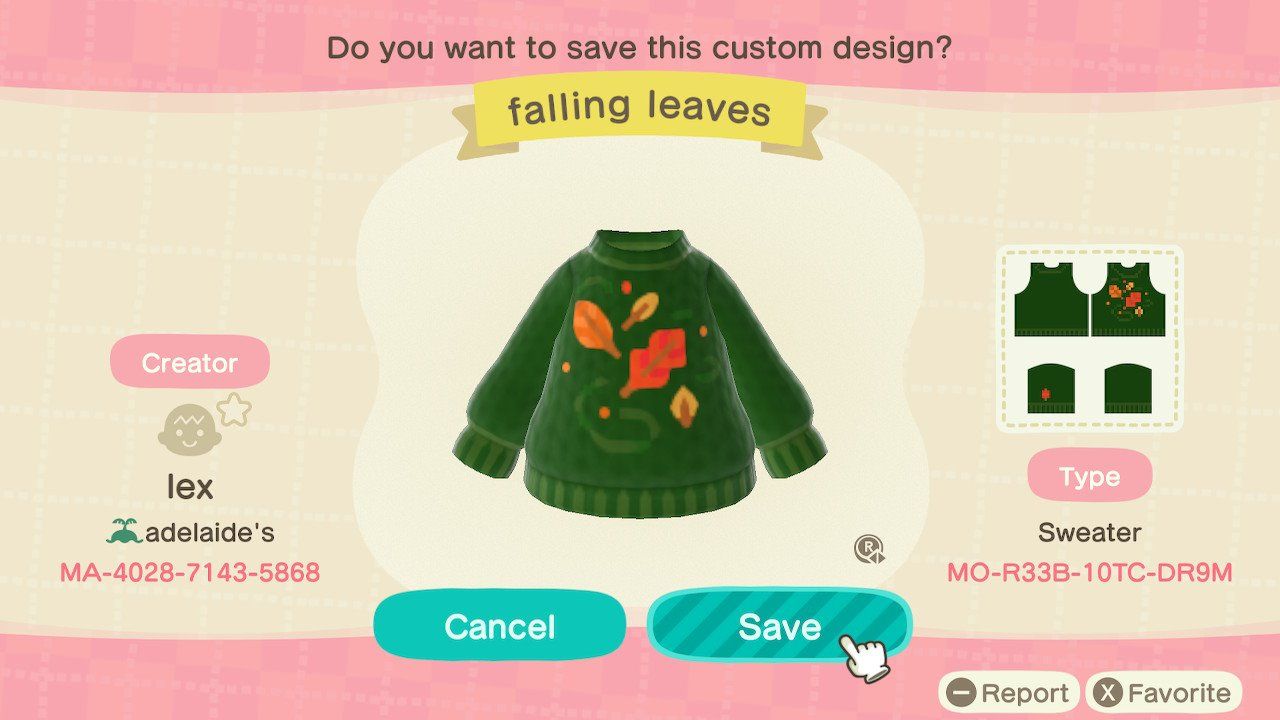 Turkey Day will go live in Animal Crossing on November 26th at 9 AM local time, so get your wardrobe ready for all of the festivities!
Source: Read Full Article