Tinkertown Opens The Gates For Early Access
Headup indie video game studio has announced the Steam Early Access phase for Tinkertown, its 16 bit-style multiplayer sandbox RPG. The game is currently on special promotion with a 15% discount (to $14.44) until December 10.
According to the announcement on the game's Steam page, Tinkertown is Headup's first in-house developed video game. The studio has been in business for over 10 years, "porting and publishing independent games from great external development team." It has been partnered with Re-Logic for many years, and helped create the PC Collector's Edition of Terraria. Terraria and The Legend of Zelda helped influence Tinkertown's look and gameplay, and the devs even brought in "the original composer of The Secret of Mana OST" to score Tinkertown's music.
In Tinkertown, you'll be able to play solo or gather your gaming friends and experience sandbox gameplay that features procedurally generated realms with numerous landscapes such as "mystical forests, great deserts or steaming lava mountains." You'll gather multiple resources to build a wide variety of items, gear, houses, and even an entire community surrounding your very own castle. You'll be able to play as one of the standard rogue, warrior, or wizard roles, "or create a new loadout and invent your own role" to venture forth into the many dungeons found throughout the realm.
Along with the Early Access announcement, Headup also published Tinkertown's future Roadmap plan, which is being designed to give the game a healthy quantity of quality content over its development cycle. The devs are planning to add in "more biomes, enemies, NPCs, furniture, recipes," and introduce "new mechanics, items, gear, loadout, dungeons, bosses and much more." Tinkertown Early Access players are encouraged to send in your feedback through the game or through the Tinkertown Discord channel. They also state they are hoping there won't be many bugs to report and fix, and that they are "especially hoping and looking for feedback on the sandbox gameplay experience when it comes to balancing and the crafting and building aspects of the game."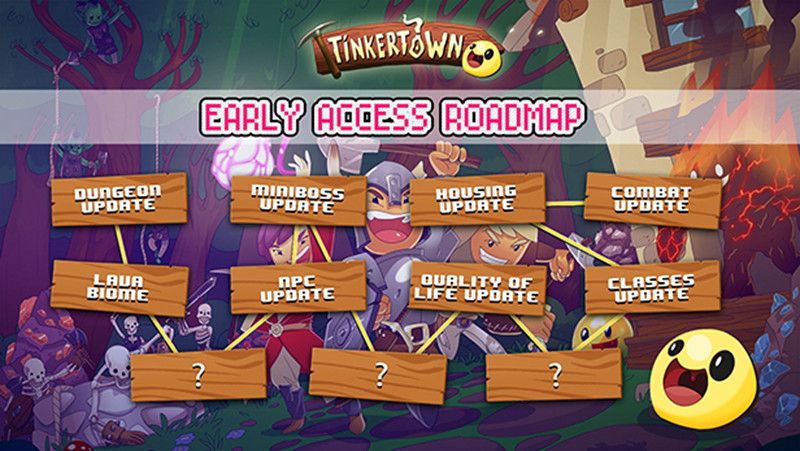 Looking through Headup's previous game resume shows it has worked on some really good indie games, including Dead Age (2016) and Dead Age II (2020), Game Royale 2 – The Secret of Jannis Island (2016), The Coma: Recut (2017), and Everreach: Project Eden (2019). It's also responsible for publishing the Bridge Constructor series, starting with the original Bridge Constructor in 2013, on up to the most recent (2020) Bridge Constructor: The Walking Dead. If the studio's track record holds steady, Tinkertown seems primed to join in on that list.
Source: Read Full Article