Super Mario 3D World And Bowser's Fury Switch Listed For $9999.99 At Target
It seems that the new content in Super Mario 3D World + Bowser's Fury is worth a lot more than people realized, as pre-ordering the game on the Target website will set you back $9,999.99.
Nintendo recently shadow dropped a Mario 35th anniversary Direct, which included announcements for games like Super Mario 3D All-Stars and a battle royale game based on the original Super Mario Bros. title. One of the announcements made during the show was for Super Mario 3D World + Bowser's Fury, which is an updated version of one of the best titles for Wii U, and it's coming to the Switch next year.
Related: Nintendo Is Only Selling Super Mario 3D All-Stars Until March, And It Makes No Sense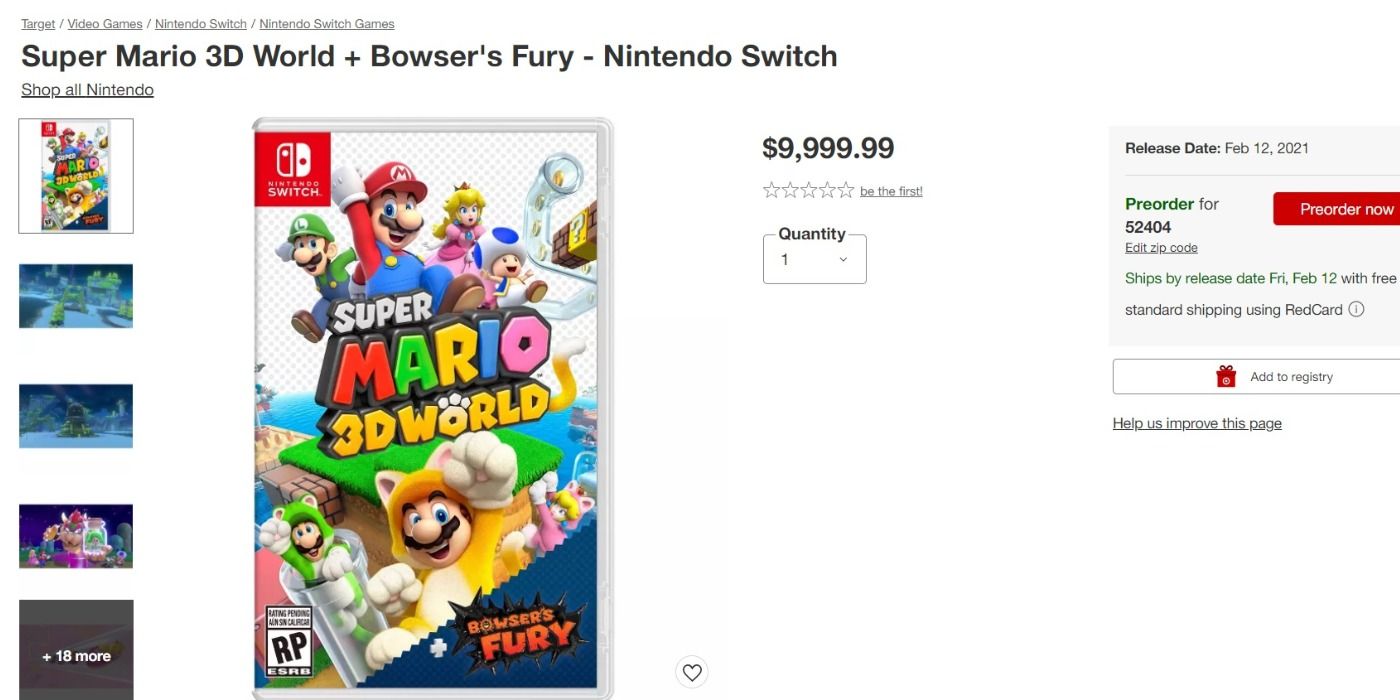 It's obvious that this is just an incorrect placeholder price. The majority of retailers will put incorrect release dates or prices on a game when the exact figure isn't known yet. It's often the case that games with a release date of a specific year (say, 2020), will be listed on websites as coming out on December 31, 2020, even though no other date has been revealed yet.
The original Super Mario 3D World for the Wii U was the second best-selling game on the system (behind Mario Kart 8 Deluxe) and it's considered to be one of the finest platformers in the Mario series, which is no small boast. The Switch version is coming with an entirely new section of the game involving Bowser, as well as running a lot faster than the Wii version of the game and containing online multiplayer modes. These are all fine additions, but we would rather spend the extra $9950 on a new car or nine really great nights at the club than on some more Mario content.
Next: Nintendo Switch Eshop Has Received A Mario Makeover
Super Mario 3D World + Bowser's Fury is coming to Nintendo Switch on February 21, 2021.
Source: Read Full Article