Shin Megami Tensei 3 Nocturne HD Remaster Arrives This May, Deluxe Edition Includes Early Access
Atlus has revealed that Shin Megami Tensei 3 Nocturne HD Remake will launch May 25 on Nintendo Switch, PS4, and PC via Steam. Pre-orders are available now, and those who do choose to pre-order the Digital Delux Edition will have access to the game four days early on May 21.
Shin Megami Tensei 3 Nocturne made its debut back in 2003 as another dark installment to the SMT universe from Atlus. You'll journey through a doomed and transformed Tokyo as the Demi-Fiend, a former high school student roped into an apocalyptic event. Nocturne was lauded as one of Atlus' darker titles, and the game's ESRB rating summary is a reminder as to why it landed that Mature icon.
The remake is a cleaned-up version of the cult classic, sporting remastered 3D models and backgrounds. Atlus has also included new difficulty settings, a suspended save function, dual audio for English and Japanese voices, and a new story branch featuring Raidou Kuzunoha.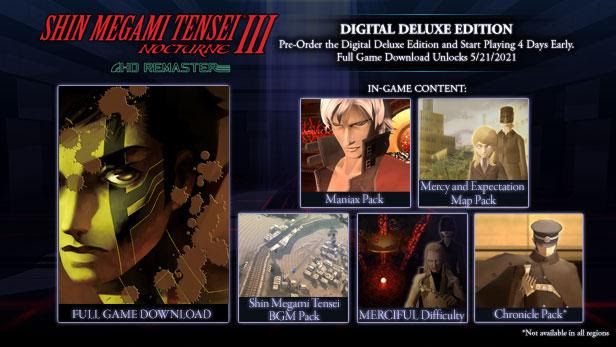 For Nocturne HD's Western launch, you can either grab the Digital Deluxe Edition for $69.99 or the Standard Edition for $49.99. Atlus listed the Digital Deluxe Edition as including the following:
Full Game Download
Exclusive access to the game four days early, on May 21
Maniax Pack

Adds Dante from the Devil May Cry Series

Adds Raidou from the Devil Summoner Series

Adds an easier difficulty mode

Little Master's Mercy
Master's Expectation

BGM Pack 1: Shin Megami Tensei (2 songs)
BGM Pack 2: Shin Megami Tensei 2 (2 songs)
BGM Pack 3: Shin Megami Tensei 4 (2 songs)
BGM Pack 4: Shin Megami Tensei 4: Apocalypse (2 songs)

The Standard Edition of Nocturne includes the base game and Chronicle Pack, and you can pre-order it now from Amazon, Best Buy, and GameStop.

It's worth noting that Atlus has also mentioned that patches implemented after the Japanese release will accompany Nocturne's launch in the West. When the game launched last year in Japan, some players heavily criticized Nocturne for performance issues, but Atlus has since patched the game.

Next: Genshin Impact Is The Most Discussed Game of 2021

Game News
Nintendo Switch
ps4
Atlus
Shin Megami Tensei 3

Andrea Shearon is a news editor at TheGamer who loves RPGs and anything horror related. Find her on Twitter via @Maajora.

Source: Read Full Article