Persona 5 Royal Is The Top-Rated Game Of 2020 (So Far)
With less than two weeks until the official Western release of Persona 5 Royal, fans are eagerly awaiting the drop of the all-new, enhanced version of the beloved JRPG Persona 5. But early reviews of the English localization of the game are already out – and it looks like Persona 5 Royal has already claimed the title of the top-rated video game of 2020 (so far).
Persona 5 Royal currently holds a score of 96/100 on Metacritic, based on 31 positive reviews for the game. With that initial score, P5R has claimed the spot of the best-reviewed video game of 2020. It is followed by other high-ranking titles such as Animal Crossing: New Horizons (91), Ori and the Will of the Wisps (90), DOOM Eternal (90), and Yakuza 0 for the Xbox One (90). The scores for Animal Crossing and DOOM are also based on early reviews, as both those games officially come out this Friday, March 20.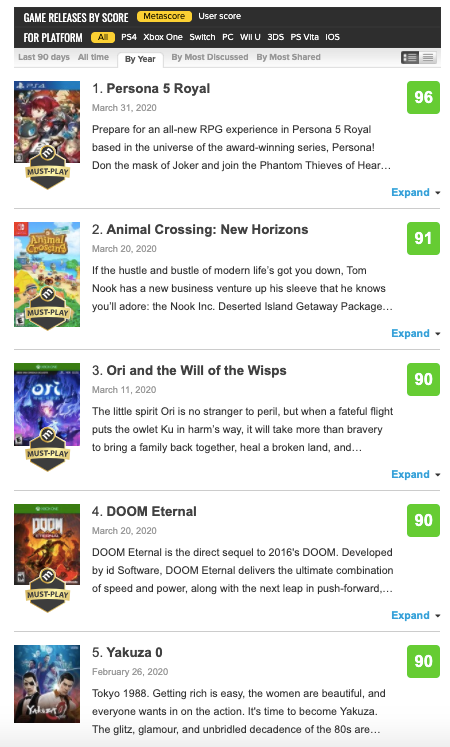 Notably, Persona 5 Royal has also taken the spot of the best ranked PlayStation game of 2020 (as the other high-ranking titles are for the Nintendo Switch or Xbox One).
But this is not the only early honor Persona 5 Royal has received. Metacritic pointed out in a recent tweet that P5R's score of 96 has pushed it to the number three position on the list of "All-Time Best-Reviewed PS4 Games" on their site. Persona 5 Royal's score is beaten only by the acclaimed Red Dead Redemption 2 (October 2018) and Grand Theft Auto V (November 2014).
If these accolades weren't enough, Persona 5 Royal has also taken the spot of the best-reviewed game in the Persona video game franchise. It is closely followed by Persona 4 Golden (2012), an enhanced version of Persona 4; then followed by the original versions of Persona 5 (2017) and Persona 4 (2008).
Persona 5 Royal is the upcoming enhanced version of critically acclaimed JRPG Persona 5, the sixth title in the Persona franchise (a spin-off series of the Shin Megami Tensei video game franchise). The game follows a group of high schoolers in Japan who awaken to secret powers and take on the role of modern-day superheroes dedicated to taking on corrupted adults in power. The original game's core themes of friendship, acceptance, and empathy made it a universal game that resonated with fans across the world.
Persona 5 Royal comes out on March 31, 2020, for the PlayStation 4. The game was originally released in Japan back on October 31, 2019.
Source: Read Full Article