How To Complete The Wish Upon A Lantern Web Event In Genshin Impact
There is a brand new web event live for all of you Genshin Impact fans out there. The brand new event is called Wish Upon A Lantern, and it sees you releasing lanterns with Xiao over Liyue in hopes of getting some fresh rewards in your Genshin Impact save. Not a bad trade-off, honestly, and it's worth doing since you can quickly rack up Mora and EXP items by completing this web event with just a few clicks – all you need to do is log in and click away for some free bonuses.
In this guide we're going to break down everything you need to know to complete this brief but beautiful web event. There's not too much to keep in mind, really, but if you're a dedicated Genshin Impact player – or you really just want some free rewards – then this is well worth doing. Just follow our instructions below to reap the rewards during the Wish Upon A Lantern Web Event. This is well worth doing, as there's a potential one billion (1,000,000,000!) Primogem prize to be shared among the Genshin Impact community. That's at least a few Primogems each!
How Long The Wish Upon A Lantern Web Event Lasts For
This web event only lasts for a single week, so if you want to earn those rewards you will have to get started now. You can only take part if you have already reached Adventure Rank 10 – at least that's easy enough.
Event begins: February 19
Event ends: February 25
Prize distribution: February 26 – March 4
Where To Play The Wish Upon A Lantern Web Event
In order to take part in the Wish Upon A Lantern event you will need to log into the Mihoyo website. If you are struggling to log in, you may need to follow our instructions on how to make an alternate account login method here.
Once you've logged in, visit this page here. This is where everything happens. Please use a modern browser that can handle the page!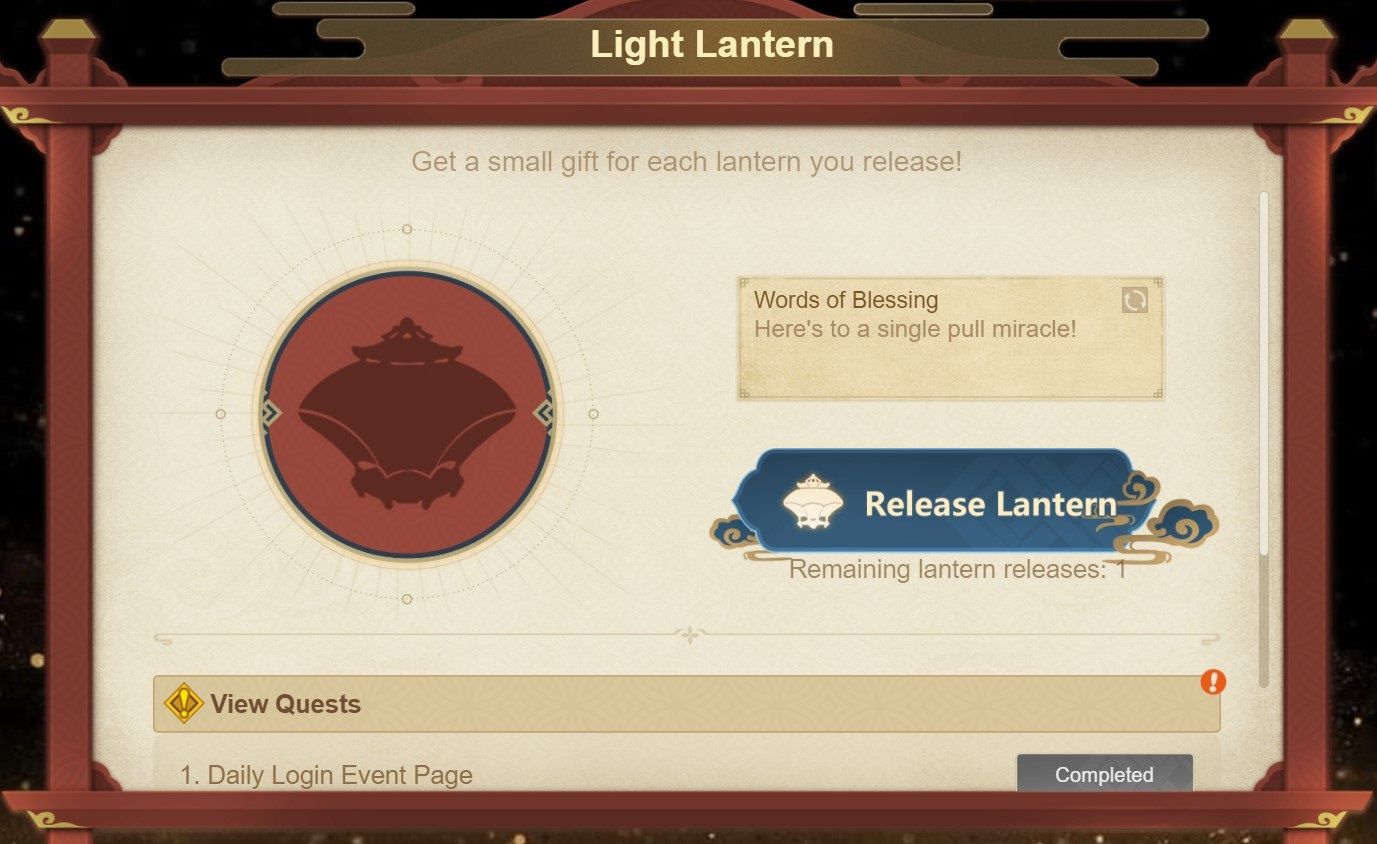 What To Do During The Wish Upon A Lantern Web Event
Your goal is to release at least one of each kind of the five lanterns during the event. You should instantly be able to release at least one lantern, and then you'll be able to release even more by following these instructions.
Click on the Release Lantern banner.
Click View Quests.
Complete the quests – just click through to visit the Genshin Impact T
witter page, and you can complete the Daily Sharing quest just by copying the link.
You get another lantern by clicking the "Highlights" button in the bottom right.
Each quest will give you a new lantern to release, and you will get more lanterns for coming back each day. Make sure to bookmark the event page!
It is possible you will get repeat lanterns – that sucks – but make sure to come back each day to boost your chances of completing the five lanterns and getting that final Primogem prize.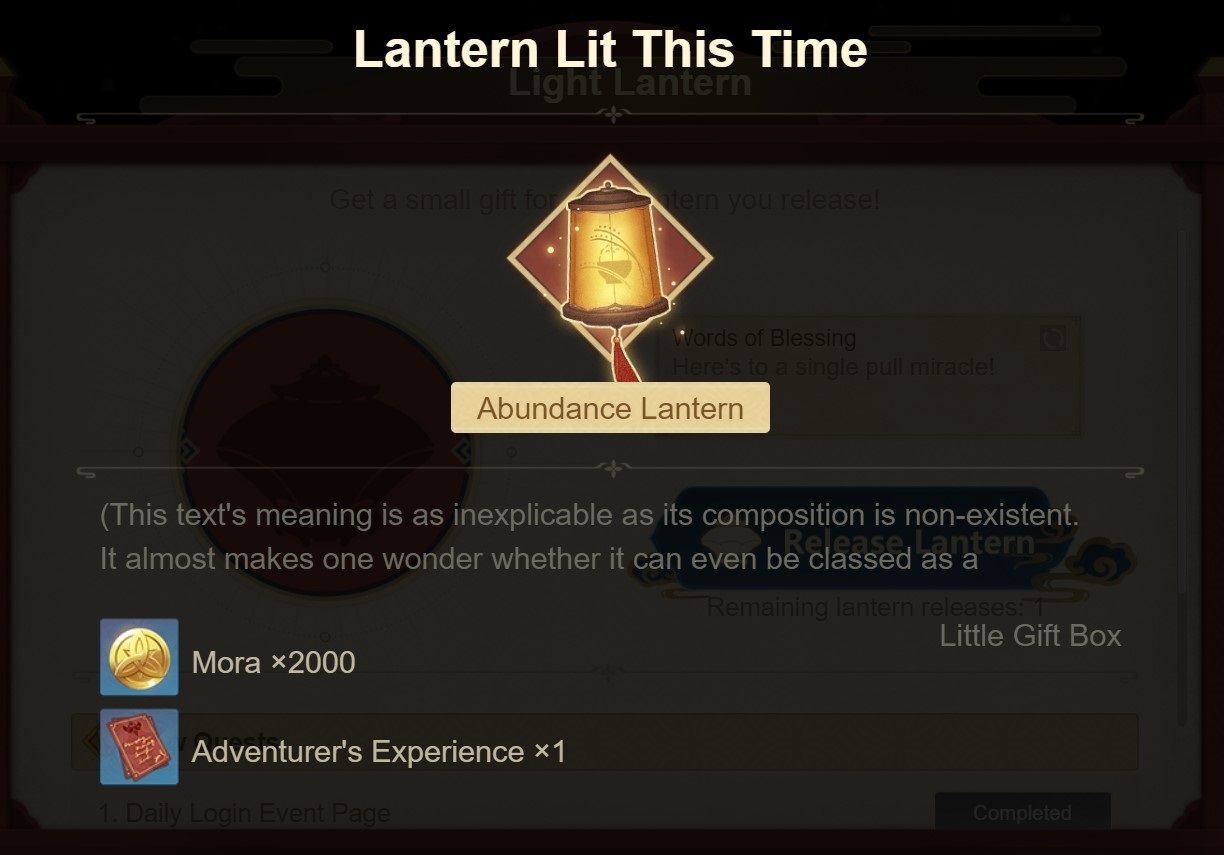 By the way, there are 39.3 million (39,300,000) Genshin Impact players. If you split the one billion Primogem prize evenly across them all, it'd only be 25 Primogems each. Luckily we can rest assured that many of those players have dropped off, and many more will not participate in or complete this Wish Upon A Lantern event. Hope that makes you feel better about your chances!
Next: Genshin Impact: 10 Best Bosses (Based On Rewards Dropped)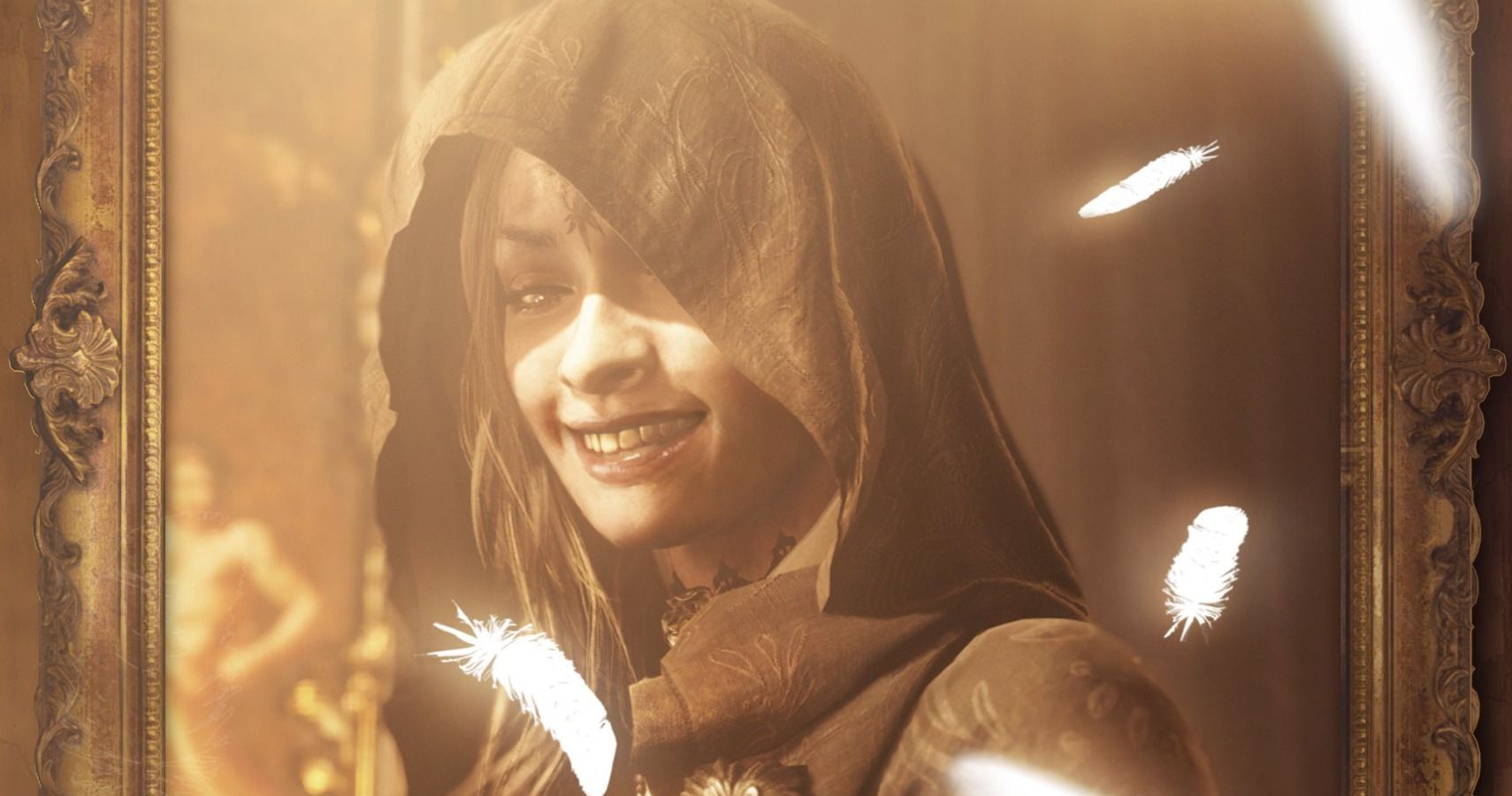 TheGamer Guides Editor.
Am I supposed to write this in the third-person? Do you know how awkward it is talking about yourself like you're someone else? No one would ever believe someone else has this many nice things to say about me.
Source: Read Full Article