Fallout 76 Roadmap Reveals More Brotherhood Of Steel, More Daily Ops, And CAMP Pets
Bethesda isn't letting their recent Microsoft acquisition slow down their planned content updates for Fallout 76. We've got a brand new roadmap just full of surprises, including some features that have been long-requested by the Fallout community.
But we're going to start with some features that were already previewed back in January. Season 4 will be called "Locked & Loaded," and it brings the ability to respec your SPECIAL stats, multiple CAMP locations, and an expanded selection of Daily Ops.
SPECIAL Loadouts will be available after reaching level 25 and lets you reset your stats while at CAMP. You can also then create SPECIAL builds to equip to try out new playstyles or to take on specific challenges.
CAMP Slots will let you have multiple CAMPs, each with its own location, build budget, name, and map icon. You can't have more than one CAMP active at a time, but you will be able to switch between active CAMPS at will. Vending Machines will have an expanded number of item slots that are shared across all CAMPs, however, display cases are still going to be separate for each CAMP.
The planned Daily Ops expansion "nearly doubles" the amount of randomized content, according to Bethesda. A new Scoreboard, new cosmetics, and consumables will also arrive in Season 4, along with Armor Ace and the Power Patron in "Cold Steel."
Season 5 arrives this summer and picks up where Steel Dawn left off. The Brotherhood of Steel will have new quests, new locations, new NPCs, and new rewards for brave vault dwellers. Season 5 also brings new Legendary crafting that will let players build their own Legendary weapons and armor.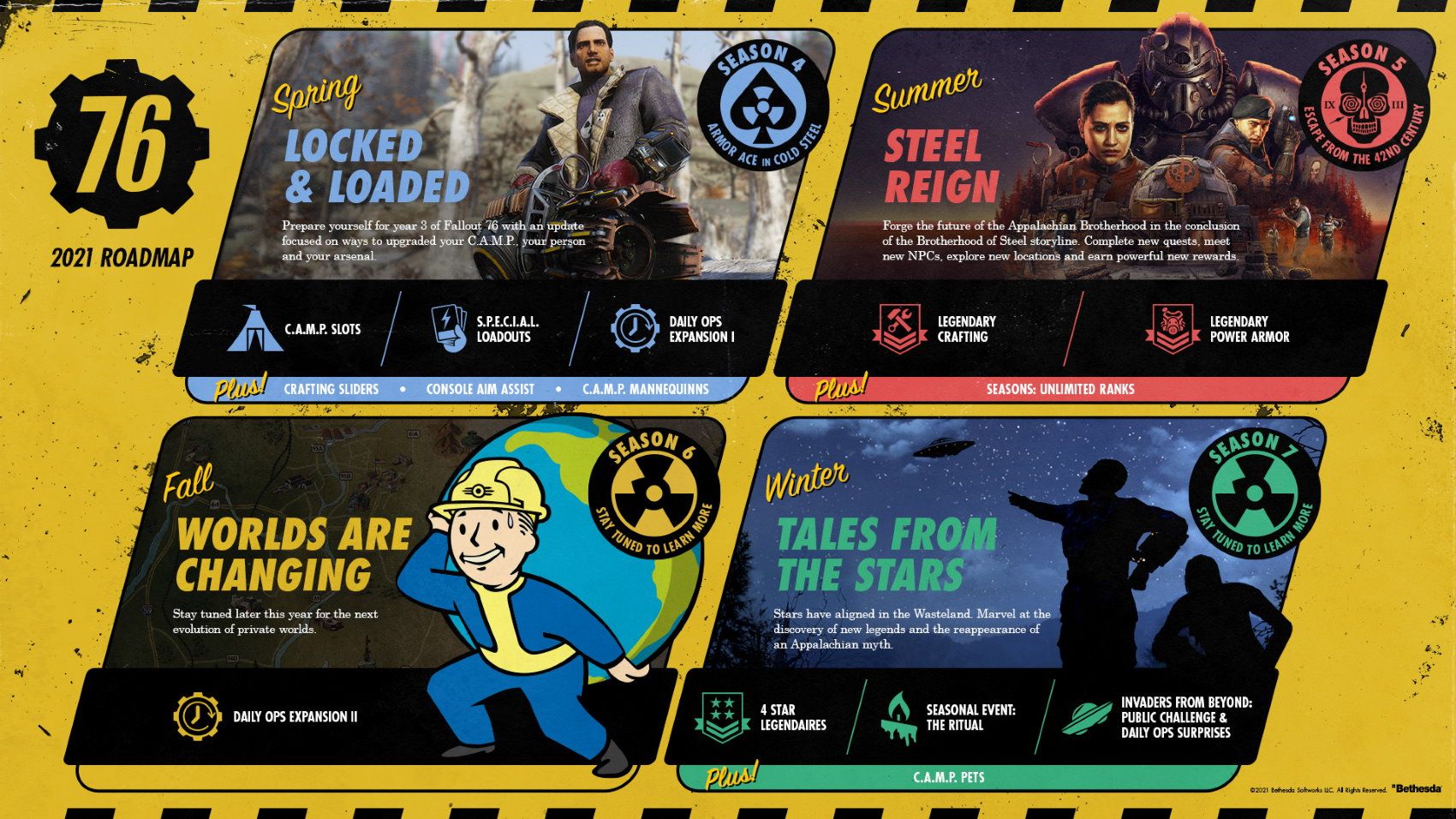 Fall's update doesn't have a name yet, but Bethesda says it'll contain an evolution to private servers and also more Daily Ops missions, while Season 7 will bring 4-Star Legendary items and the long-requested addition of CAMP Pets. It'll also have a new Public Challenge in the form of an alien invasion called "Invaders from Beyond," as well as a new season event called "The Ritual" where you help Point Pleasant's cultists in exchange for unique rewards.
Check out the infographic above and stay tuned for more on when each new season arrives. Season 4: Locked & Loaded arrives on April 27.
Next: Ryan Reynolds Hosted A Green Lantern Watchalong, Confirmed "It Ain't A Tragedy"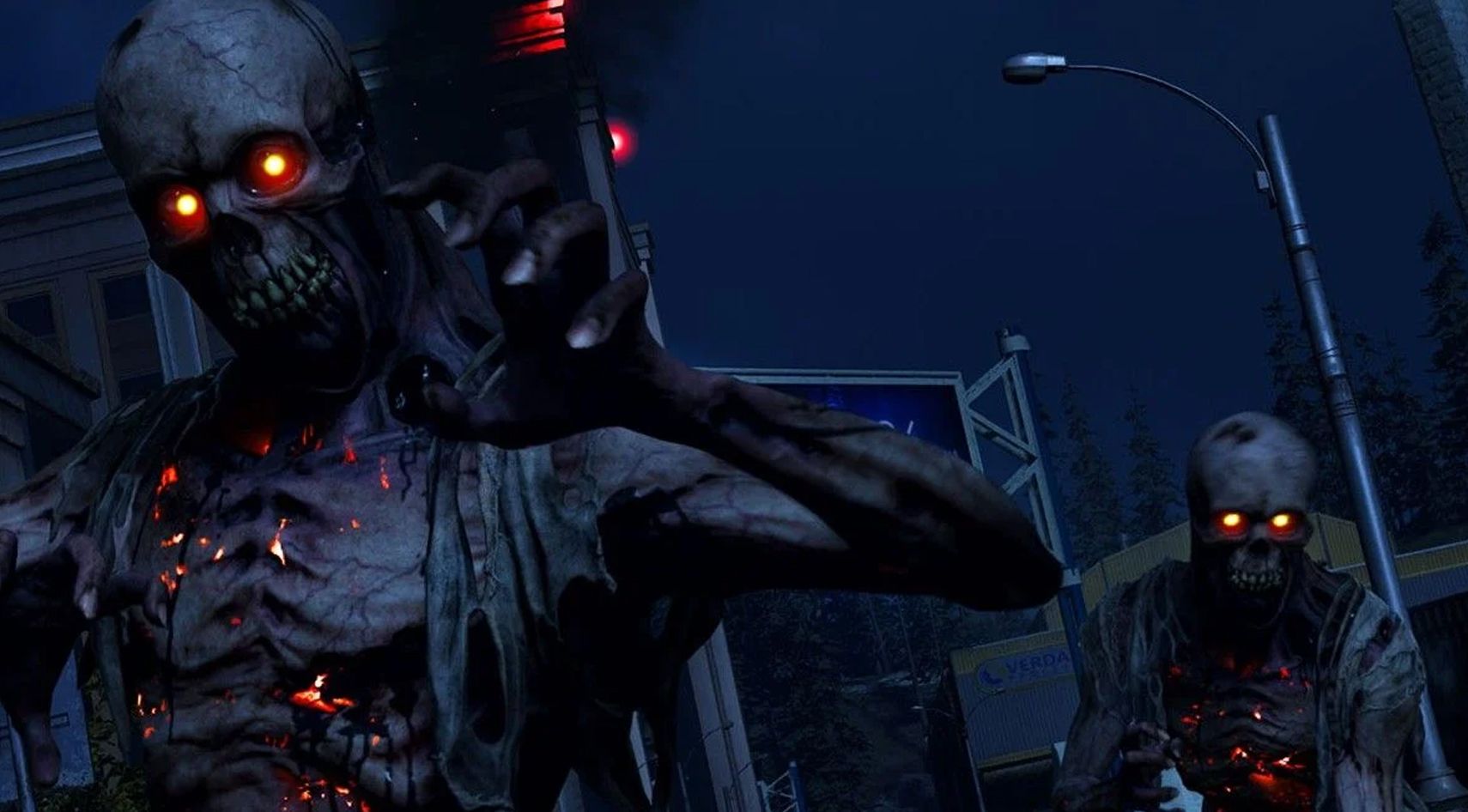 Game News
Fallout
Fallout 76
Actually a collective of 6 hamsters piloting a human-shaped robot, Sean hails from Toronto, Canada. Passionate about gaming from a young age, those hamsters would probably have taken over the world by now if they didn't vastly prefer playing and writing about video games instead.
The hamsters are so far into their long-con that they've managed to acquire a bachelor's degree from the University of Waterloo and used that to convince the fine editors at TheGamer that they can write "gud werds," when in reality they just have a very sophisticated spellchecker program installed in the robot's central processing unit.
Source: Read Full Article