Dune's Tabletop RPG Writers Plan To Bring Out The Series' Diversity
Dune is going through a resurgence, with a new movie adaptation coming out later this year. There are also multiple video games, a spinoff streaming series, and now a role-playing game currently in development.
Dune is a legendary sci-fi book written by Frank Herbert. It came out in 1965 and tells the story of Paul Atreides, a young duke that ends up becoming the messiah on the planet Arrakis. The planet becomes a battleground between the different noble houses and the imperium because it's the only source of the Melange spice that allows interstellar travel. While the previous movie adaptations featured predominantly caucasian actors the new version will have a diverse cast. Modiphius Games seems to be following suit and is using diverse writers for their upcoming game.
RELATED: Conan Exiles Developer Funcom Wants To Make Games Set In Dune Universe
According to Polygon, one of the writers is Khaldoun Khelil, an Arab-American of Palestinian descent. He has a colorful background having worked in political consulting, counterintelligence, the oil industry, and as a writer for the Vampire: The Masquerade franchise. This is what he had to say about his new role," I grew up with [the 1984 David Lynch version of Dune] and I loved it. This led me to the original series of books and I fell in love with them as well and really saw the deeper lore of the story.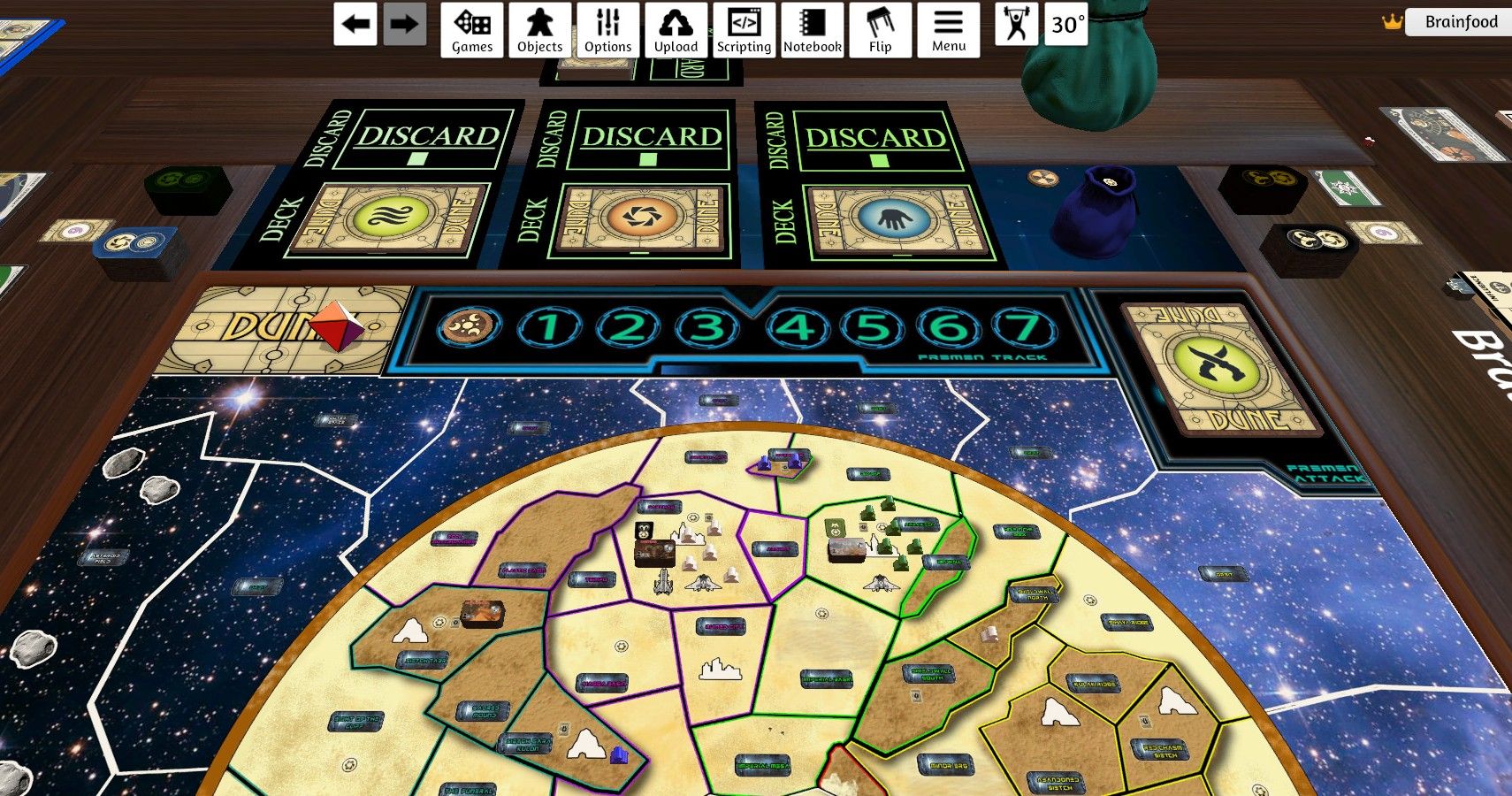 "One of my writing challenges has always been finding a way to make history accessible and engaging to the reader," said Spivey. "Understanding history is important in real life and doubly so in Dune […] The books themselves were very white-cis-male-focused. I wanted to attempt to expand that world, bringing different marginalized groups to the front."
The game will allow players to choose one of the major houses of the Landstraad including House Harkonnen and House Atreides. They will also be able to form their own house withing the Padishah Imperium. According to Modiphius," the gameplay will cover all manner of agents, spies, mercenaries, and even criminals that serve the agenda of your house."
Modiphius Entertainment is a British company that specializes in licensed tabletop games. They are known for games like Star Trek Adventures and Fallout: Wasteland Warfare. At the moment they also have some other pen and paper RPG's in development based on the Homeworld and Dishonored franchises. Dune: Adventures in the Imperium is being made in conjunction with the Herbert Estate, and Legendary Pictures.
In addition to Dune: Adventures in the Imperium, there's another Dune tabletop game being developed by Gale Force Nine, Genuine Entertainment, and Legendary Pictures. This game will be a remake of the old 1979 Dune tabletop game and will allow players to take on the role of some of the book characters and battle it out for supremacy.
Hopefully, these new adaptations can do justice to this sci-fi masterpiece. Modiphius will be doing their beta testing soon, and players interested in the game can check out their website.
Source: Read Full Article