Capcom Accused By Dutch Filmmaker Of Plagiarizing Monster Designs In Resident Evil Village
Resident Evil Village released this past weekend and the general consensus is that Capcom has created another horror/action classic. Fans across the world are digging through its many nooks and crannies to see where Capcom drew inspiration for this latest game, but it seems the company may have inadvertently copied designs from a Dutch indie film. According to Dutch filmmaker Richard Raaphorst, Capcom has directly plagiarized several of his monster designs from his 2013 film Frankenstein's Army within Village.
There will be some light spoilers for Resident Evil Village below.
Speaking to Eurogamer, Raaphorst points out a striking similarity between his propeller monster in Frankenstein's Army and the boss Sturm within Village. "This is just one-to-one, really," he said. "It's just the same scene as in my movie, except that in my movie you have to cut loose the fuel tubes. That's the only thing that is missing. But the whole thing is getting into flames, and then it explodes, and then the way it rotates through the camera – it's all the same, really."
Raaphorst alleges that Capcom never approached him about using this design for its game. He only recently found out this past weekend after Village released and fans were buzzing on social media. Several fans of his film had messaged him about the boss fight, which understandably confused and angered Raaphorst.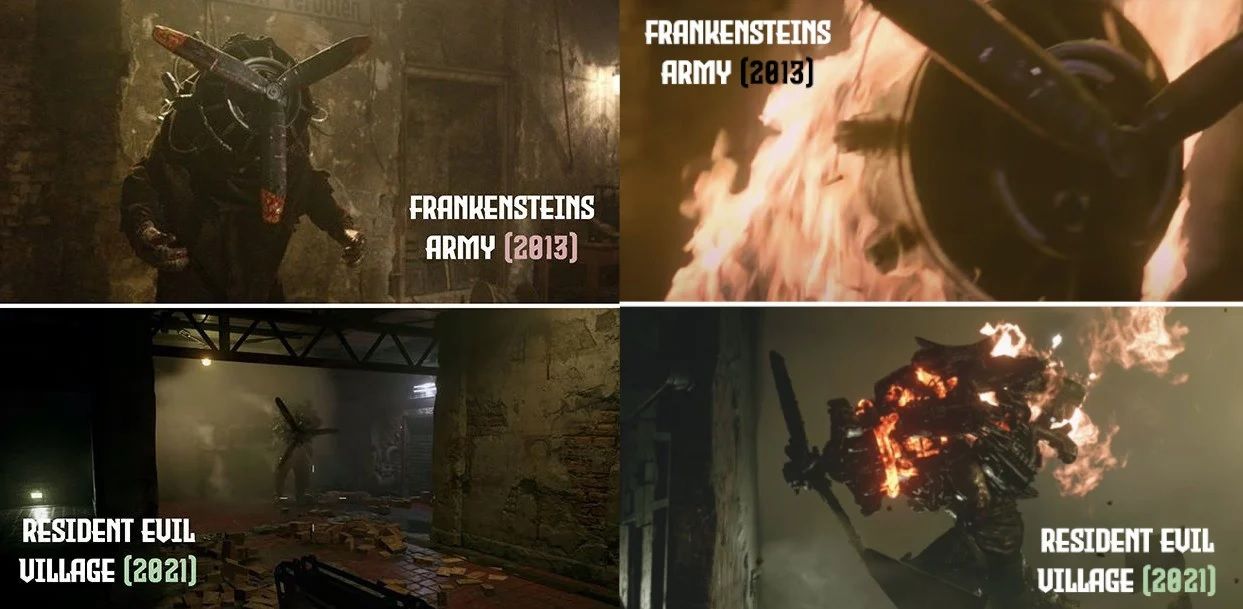 "At first I felt pissed. Then I felt proud," Raaphorst stated. "Now, I see all the reactions and I feel pissed again, and insulted. It's so difficult to come up with a great design…Then they just grab it and put it somewhere in the game. It's creative abuse."
As noted by VGC, fans dug a little deeper and found other designs with similarities between Frankenstein's Army and Village. It may be a bit of a stretch to claim any kind of plagiarism here, but Raaphorst is looking into his options. Unfortunately for him, he never owned the rights to his designs. Those belong to MPI Media Group, an American-based company that helped Raaphorst get his film financed and distributed.
"If they had asked me, 'hey, Richard, we'd love to have your design in our next Resident Evil, and we will give you a credit or some kind of royalty payment,' I would have been honored and flattered and proud. It would have been a super positive experience," Raaphorst told Eurogamer. As it stands, Capcom may be in the clear legally when it comes to Sturm.
Source: Read Full Article