Assassin's Creed Valhalla: Where To Find All Of The Wardens Of Wealth
The Order of the Ancients in Assassin's Creed Valhalla is split into several branches, with one being called the Wardens of Wealth. There are seven in total from this branch that Eivor is sent to hunt down and kill. She must gather the clues to uncover their identities through exploration and completing the story.
They are often hiding in plain sight and you might have even wandered past them a time or two without ever knowing it. Now you can learn where to find each of them and the clues leading up to their reveal so you don't have to be left wondering which NPCs could be part of the Order of the Ancients!
Havelok (The Billhook)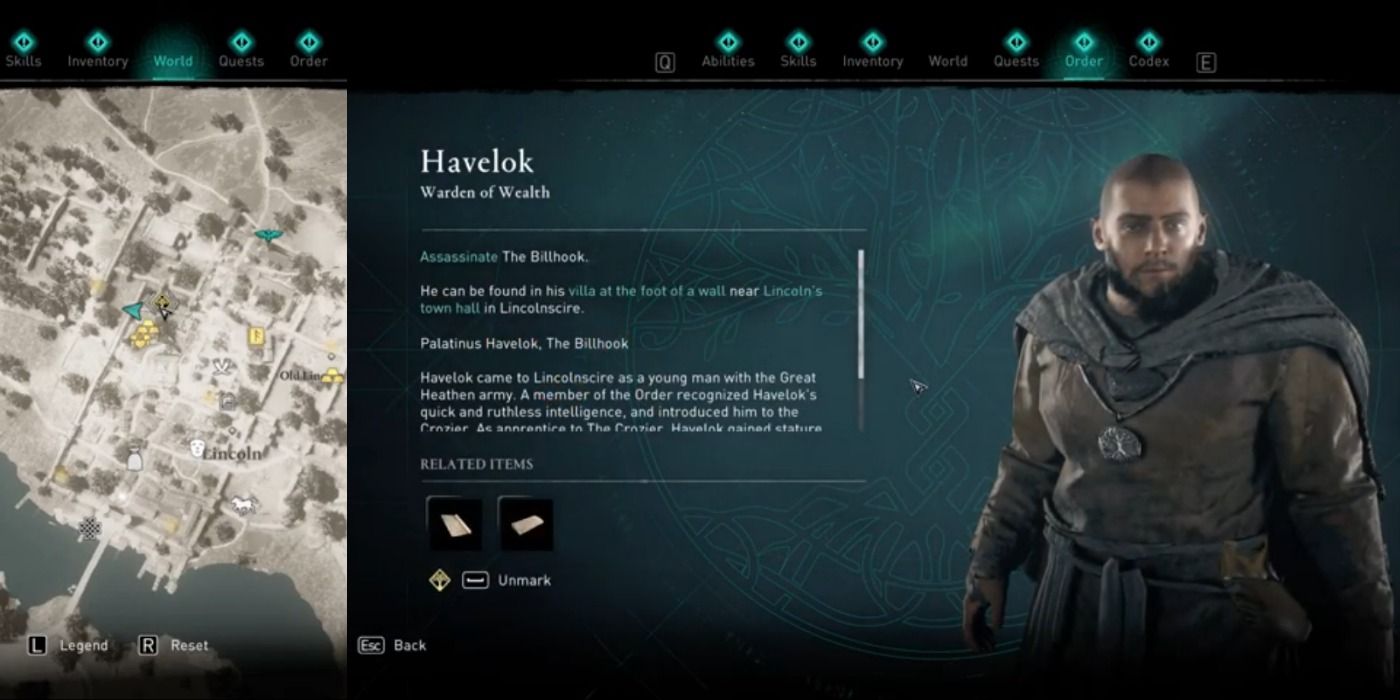 Location: Lincoln, Lincolnscire
The first Warden of Wealth is named Havelok, but he is known within the Order as The Billhook. You can either kill the Anvil first, even though it seems a little backward, or you can just head straight to Aelfgarstun farm and find the clue. One of the homes in this area will contain the clue, and it will be sitting on the barrel in the corner.
This will unlock his identity and you will be able to find him near the Town Hall in Lincoln. He will be pacing back in forth in a building, so if you time it right you will be able to assassinate him.
Patrick (The Anvil)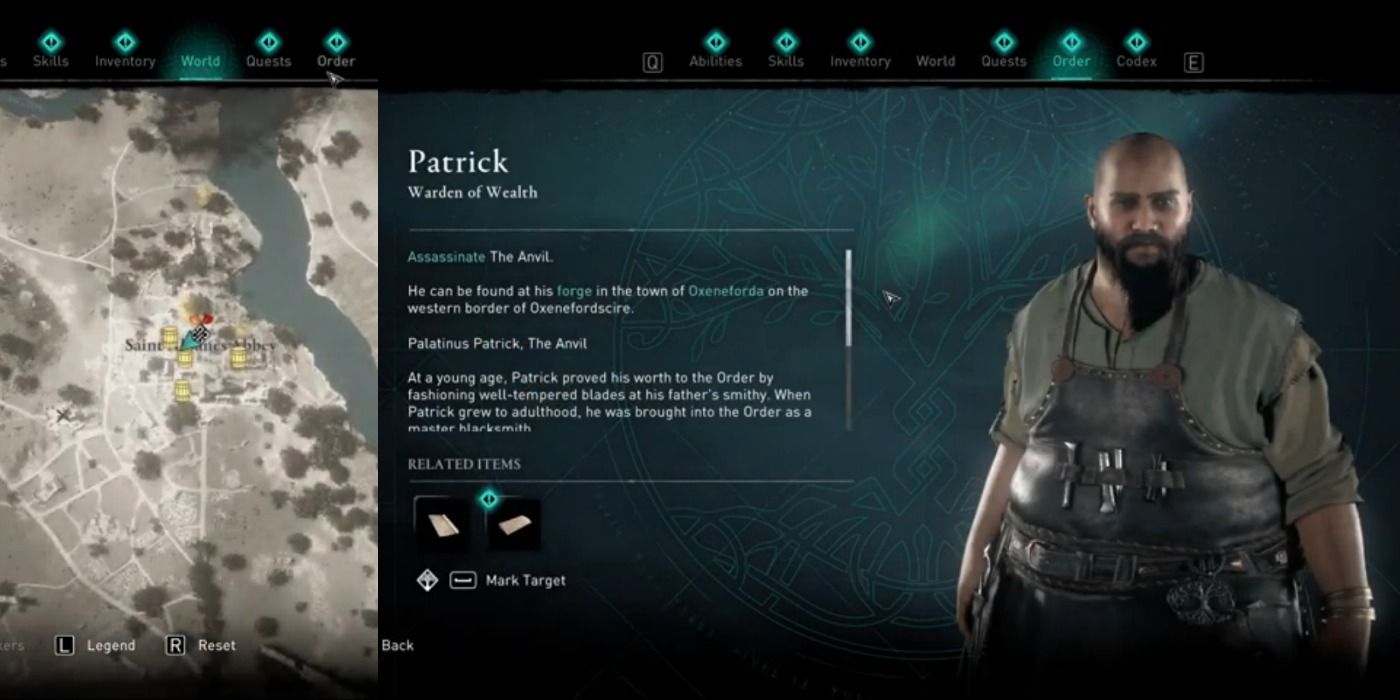 Location: Oxeneforda, Oxenefordscire
The first clue to finding the Anvil can be acquired by killing another order member name Leofgifu or a harder Zealot named Cudberct. You will then be directed to find a clue in Saint Albanes Abbey which will be sitting on a table beside some knives.
This will tell you to look at the smithy in Oxeneforda, and you can find him hard at work. The easiest way to kill him is to hop on the roof and then jump down and assassinate him from above so he never sees it coming.
Mucel, Heir To What He Tells (The Lathe)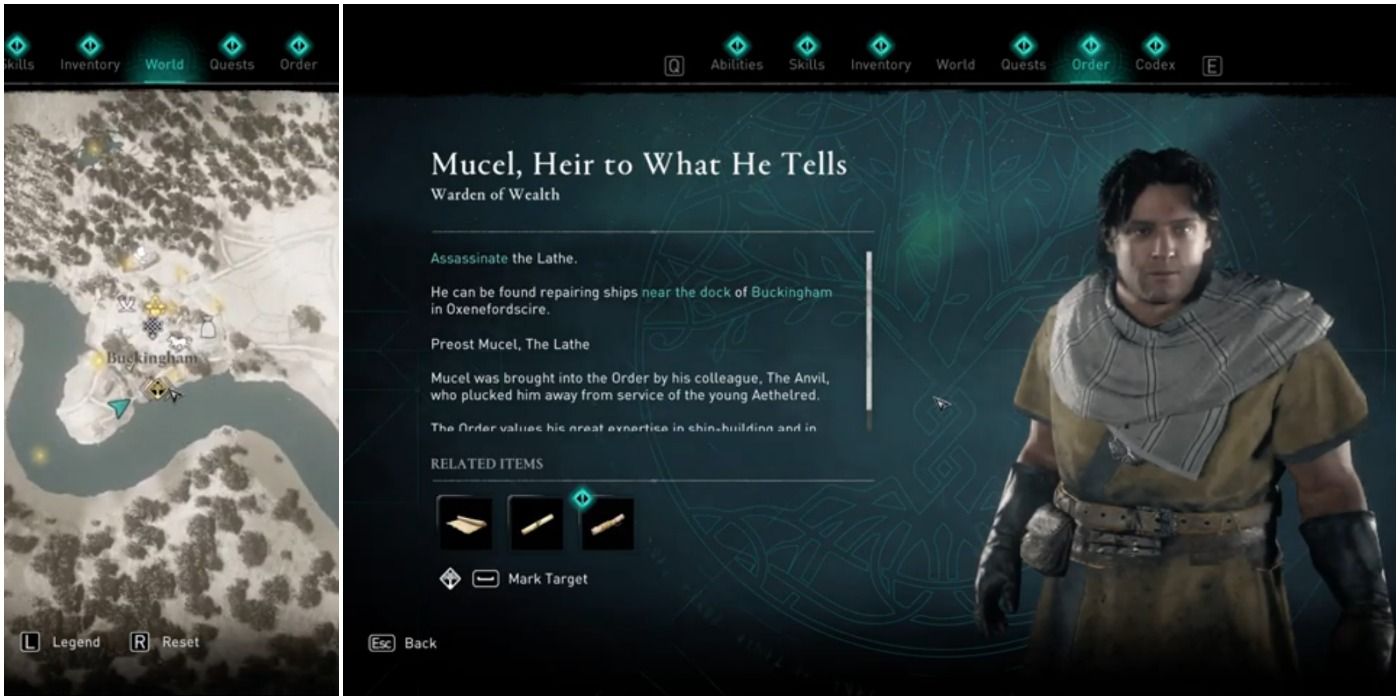 Location: Buckingham, Oxenefordscire
The first clue is uncovered by looting the chest in the Leah Villa Garrison or by killing a Zealot named Gunilla. You will then be directed to defeat the Orlog champion in Buckingham with your God Favors, who will then give you another clue that sends you to Eatun Barn on the outskirts of Oxeneforda. Breaking the rock wall and following the cavern all the way back will allow you to find the clue.
You will find Mucel down by the docks probably sitting somewhere near the shipbuilders. It is easy to assassinate him as long as you employ your stealth skills to bring down The Lathe.
Gifle (The Ash-Spear)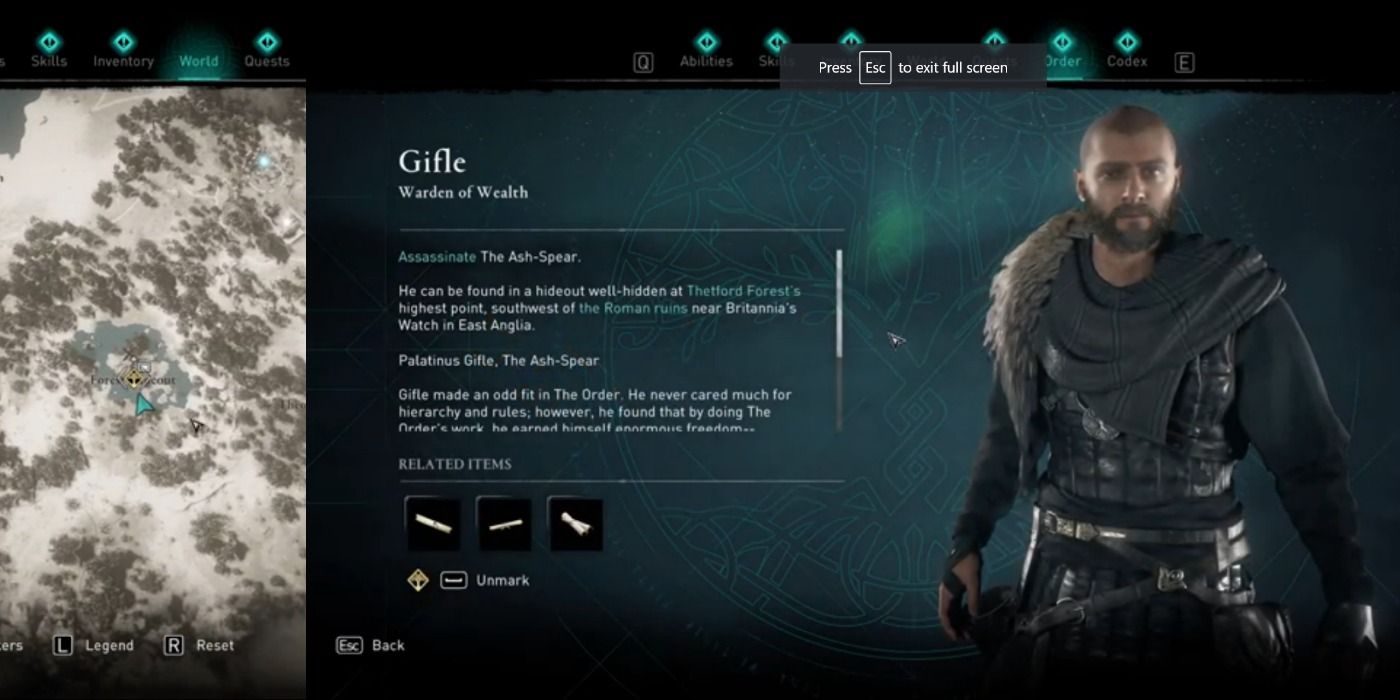 Location: Forest Hideout, East Anglia
When you kill The Lathe or Wuffa the Zealot then the first clue to The Ash-Spear's location will be given. You are instructed to then search a ruined tower near Scotthoh Farm in East Anglia where bandits are lurking and collect the note off the cart. This will send you to another bandit-infested area between Britannia's Watch and Thetford Village where the clue to reveal Gifle's identity will be sitting on a bench.
You will be sent to a bandit hideout in a swampy area where it is basically impossible not to be noticed. Gifle does make for a formidable foe so make sure not to make any combat mistakes, but don't let him wander too far as he can drink a tonic to heal himself.
Wigmund (The Tang)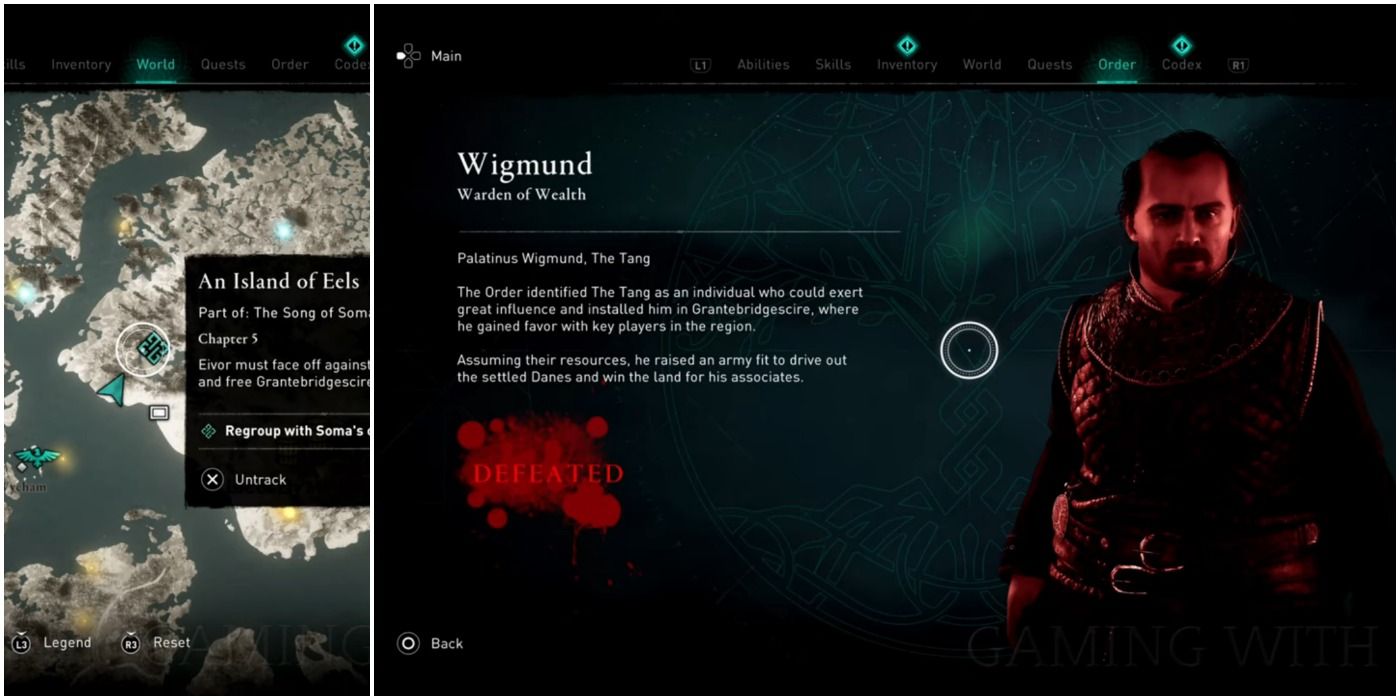 Location: Isle of Ely Monastery, Grantebridgescire
Once you upgrade the Hidden Ones Bureau in your settlement then it will be revealed that a nobleman in Grantebrigescire is part of the order. You will uncover his identity during this story arc involving Soma and the exact quest is called Island of Eels.
You and Soma will infiltrate the building where Wigmund is hiding and he is a very easy kill. You can choose to assassinate him or fight him, as neither makes a difference due to his lack of combat skills.
Bishop Herefrith (The Crozier)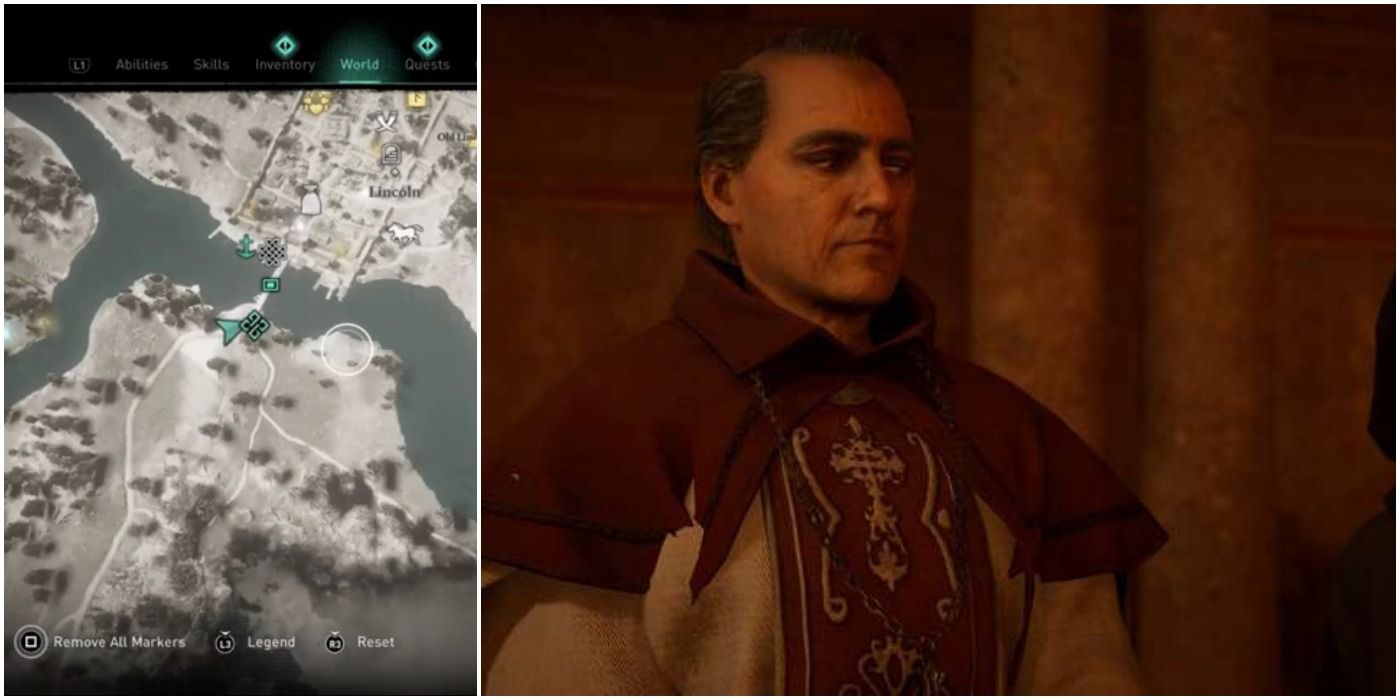 Location: Anecastre, Lincolnscire
Bishop Herefrith's identity as The Crozier will be revealed during a quest called Where the Stone Falls, as long as you don't choose him to be the ealdorman. Eivor will have to choose between three men, and he is the only one who doesn't make sense, but you can read more about it in this guide.
He will run from the proceedings to start a mutiny as he hides away within the church where you will hunt him down during the A Sword-Shower in Anecastre quest. You will need to find a way inside and then either take out all of the guards with your underrated weapon or employ stealth and assassinate The Crozier.
Tatfrid (The Lyre)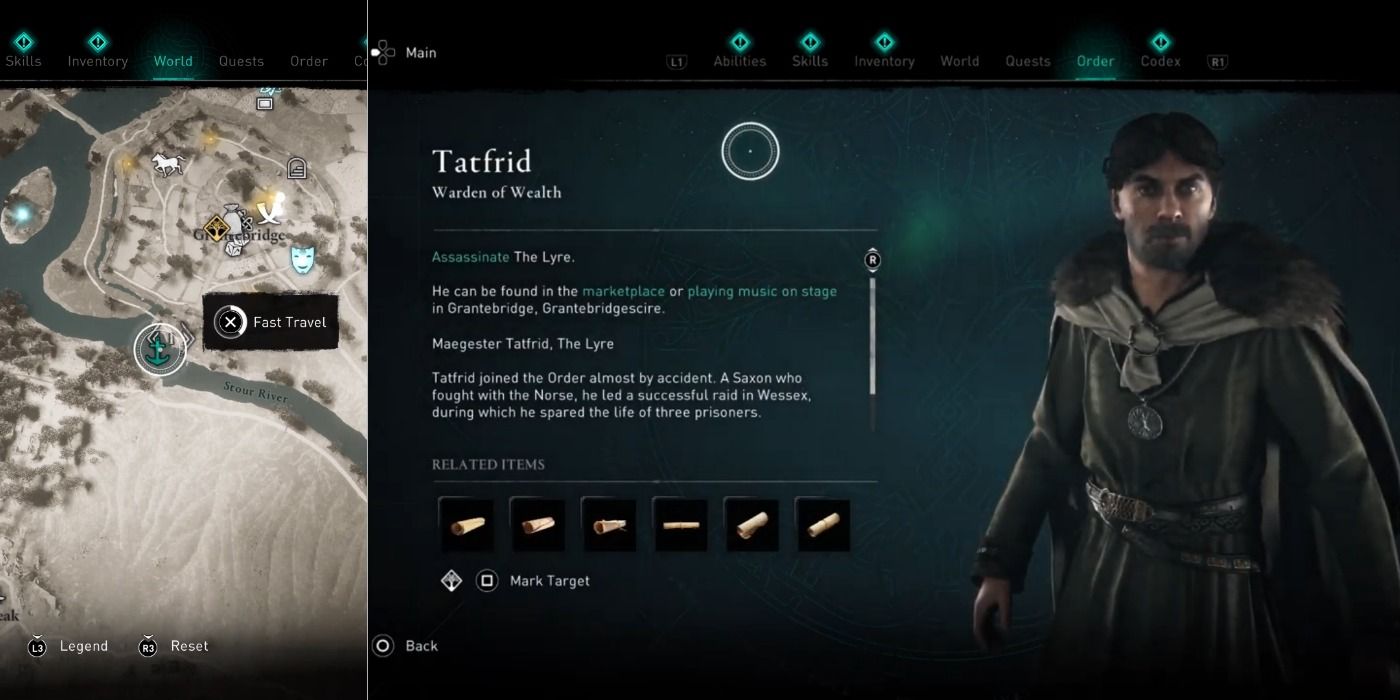 Location: Grantebridge, Grantebridgescire
Tatfrid is the leader of the Wardens of Wealth branch of the Order of the Ancients and his identity is revealed after you have killed all of the other members in this branch. You will find him in Grantebridge, either playing music or wandering the marketplace. He is able to be assassinated no matter what he is doing and it will bring you one step closer to killing them all.
Next: 10 Things Everyone Completely Missed In Assassin's Creed Valhalla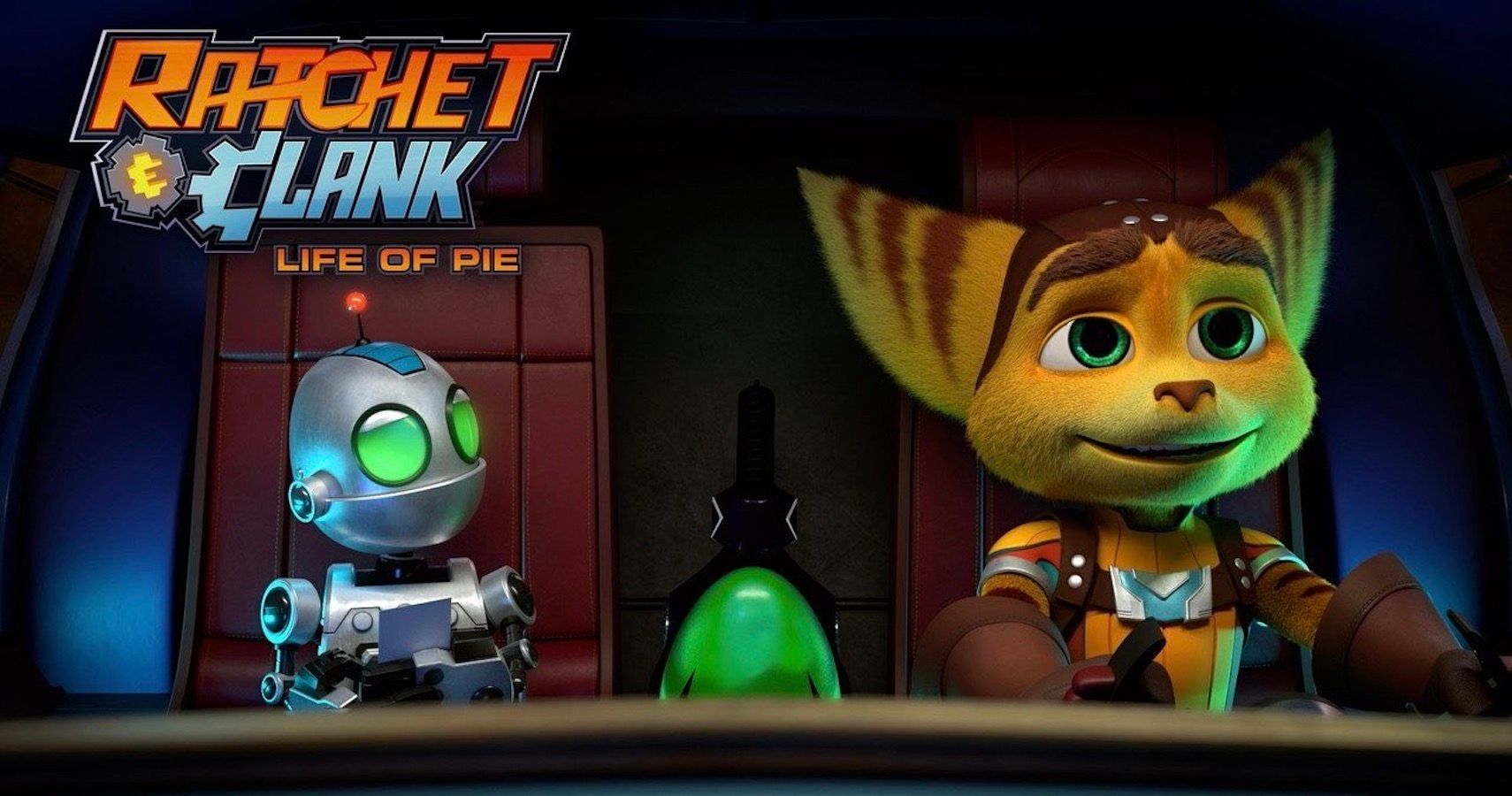 Guides
Assassin's Creed Valhalla
Rebecca O'Neill is a reader and writer based in Ohio, near the heart of the CLE. She enjoys starting fires in her kitchen and collecting pins when she's not writing for Valnet, Inc, as an Organic List Writer. She writes for her blog, Creative Measures, and works towards the completion of her fantasy novel.
Source: Read Full Article