Alinity Says She Hates Keemstar, Everyone Agrees
Alinity has appeared back on Twitch following her recent suspension à la wardrobe malfunction – and she had something bold to say about Keemstar.
Dealing with controversy is no walk in the park, and Alinity is a veteran at this point. Yeeting cats, using questionable language, experiencing wardrobe malfunctions – she's been through the ringer at this point. When chatting with Destiny on his Twitch channel yesterday, she offered an optimistic outlook, accepting people's negative views about her. Well… she did have one caveat.
Alinity bluntly stated that the one person she really hates in the world is Keemstar. Citing his proclivity for spreading lies and farming fake drama, she displayed no patience for the YouTuber. The most recent example she provided to Destiny was his persistent claims that she had been sleeping with Twitch staff in order to gain certain privileges – something yet to be proven.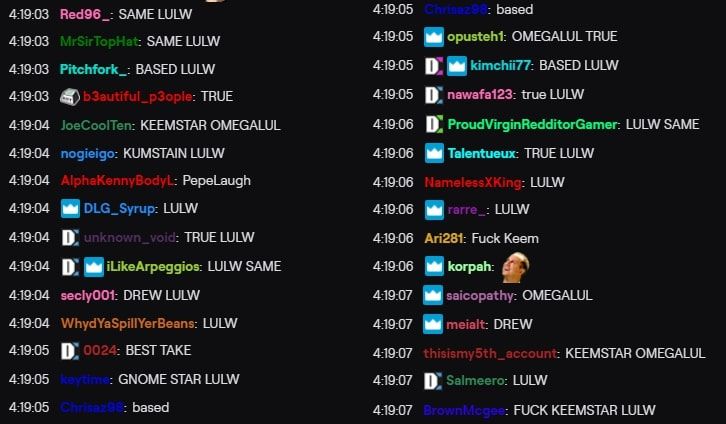 Although Twitch chat can often snowball like this, it was still an impressively unanimous reaction to such a spicy comment. Reddit had similar sentiments.
Keem has a reputation for stirring the pot. If there is even a hint of a rumor about something, he is known for bringing a large amount of attention to it. To be fair, he does want to get to the heart of the main issues and rumors buzzing around, but he simply lacks tact – and a lot of people find it quite obnoxious. If his tweeting draws attention to misinformation, that doesn't matter to him. Keem's main goal usually revolves around attempting to drag guests onto his "DramaAlert" series.
If Alinity keeps it up, she could come out of this ordeal with a lot more fans than she had previously. Between rolling with the punches, fully-embracing consequences, and taking a crack at Keemstar – the Twitch star is finding more favor on the internet than usual.
Sources: Twitch, Twitter, Reddit
Source: Read Full Article